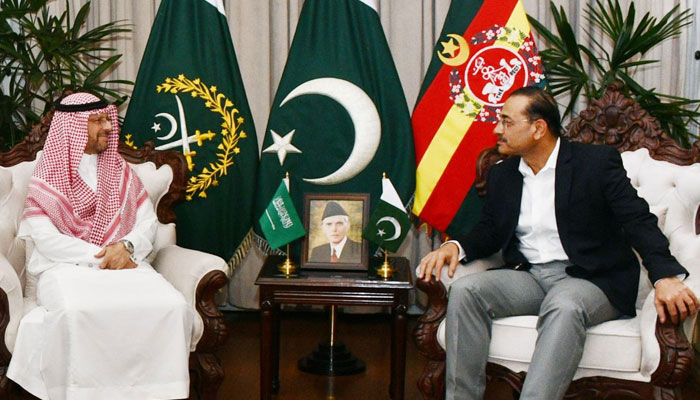 Gen Ruwaili part of high powered delegation visiting Pakistan. 
Two army chiefs deliberate upon various areas of mutual interest. 
Saudi army chief also calls on CJCSC General Sahir Shamshad. 
---
Chief of Army Staff (COAS) General Asim Munir discussed various bilateral issues including security and defence, in a meeting with his Saudi counterpart General Fayyadh Bin Hamed Al Ruwaili, the Inter-Services Public Relations (ISPR) said on Friday.

"Chief of General Staff Armed Forces of Kingdom of Saudi Arabia General Fayyadh Bin Hamed Al Ruwaili, led by a high-powered military delegation, called on Chief of Army Staff General Syed Asim Munir," the military's media wing said in a brief statement about the meeting.
On the occasion, the two commanders deliberated upon various areas of mutual interest and bilateral cooperation including defence and security matters.
The ISPR further added that earlier, the delegation also called on Chairman Joint Chiefs of Staff Committee (CJCSC) General Sahir Shamshad Mirza at the Joint Staff Headquarters, Rawalpindi.
It may be noted that Gen Munir told the Pakistani businessmen earlier this month about a $25 billion investment assured by Saudi Arabia, which had assured Pakistan of investment in IT, minerals, agriculture and defence under the Special Investment Facilitation Council (SIFC).
The COAS told the business community that Saudi Crown Prince Mohammad Bin Salman had agreed that of the $25 billion, $10 billion would be kept in the State Bank of Pakistan (SBP). This will be returned in the form of the Pakistani rupee or goods so that the foreign exchange could increase.
The army chief had also said that the crown prince has identified bureaucracy obstacles to investment and called for removing them, adding that they have Special Investment Facilitation Council (SIFC) to do away with the bureaucratic hurdles.
In July, former PM Shehbaz constituted the SIFC — comprising army chief and senior federal ministers — to provide an impetus to the government's efforts for economic revival through investments and developmental projects.
After caretaker Prime Minister Anwaar-ul-Haq Kakar took the reins of the country, he announced that Saudi Arabia along with other Middle-Eastern countries would invest in projects worth $25 billion each in a span of two to five years.