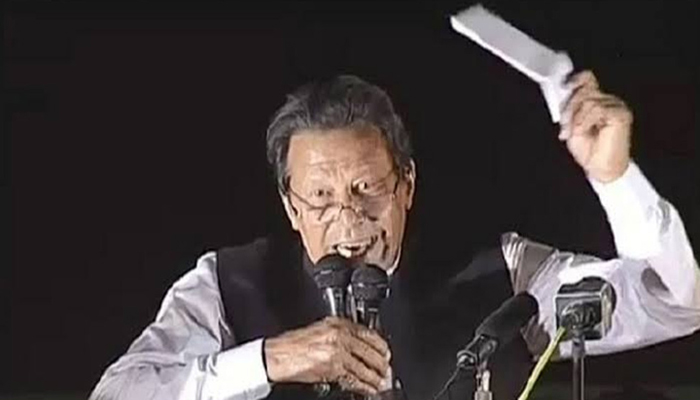 "US asked Pakistan in writing to share the purported cipher."
Senior diplomat makes revelation during interview with FIA.
US warned of holding no casual discussion after the fiasco.
---
ISLAMABAD: United States officials halted communications with Pakistani counterparts after former prime minister Imran Khan's cipher fiasco, a senior diplomat has revealed.
Imran, on March 27 last year, had brandished a piece of paper during a public rally and portrayed it as a copy of a cipher in his speech, alleging that the US wanted him out of power.
The revelation about the US officials' communications halt was made by Faisal Tirmzi, who was the additional secretary in the Ministry of Foreign Affairs, dealing with US-related matters, Geo News learned Thursday.
He told the details to the Federal Investigation Agency (FIA) as the body conducted interviews of relevant officials at the Ministry of Foreign Affairs and Prime Minister's Office to probe the cipher case.
"The US had halted communications with us. The US asked Pakistan in writing to share the purported cipher being shown by the then PM," Tirmizi, now serving as the Ambassador of Pakistan to the UAE, said.
The US officials told Pakistani counterparts that they would not hold candid discussions with them if secret conversations were made part of the public discourse.
The Foreign Office then issued an advisory to then-prime minister Imran and former foreign minister Shah Mahmood Qureshi, telling them about the repercussions of using diplomatic cables for political gains, Tirmizi said.
Imran is currently in jail for 'leaking the contents' of the diplomatic cable after a case was registered against him on August 18 under the Official Secrets Act 1923.
Pressurising military?
The former prime minister's principal secretary, Azam Khan, also told FIA officials that the ex-premier wanted the military's help to foil the no-confidence bid against him.
The former principal secretary said Imran called a meeting on March 28 (a day after showing the letter) and asked then-foreign secretary Sohail Mahmood to read the contents of the cipher.
"I think he (Imran) wanted to pressurise the military's top leadership. The former prime minister wanted the military to help him foiling the no-confidence bid," Azam said.
The former principal secretary said the Pakistan Tehreek-e-Insaf (PTI) chairman compromised Pakistan's interest through his political move.
"I think this action led to a doubt in the minds of the army's ranks against its senior leadership. The former prime minister's aim was to get political benefits from the cipher."