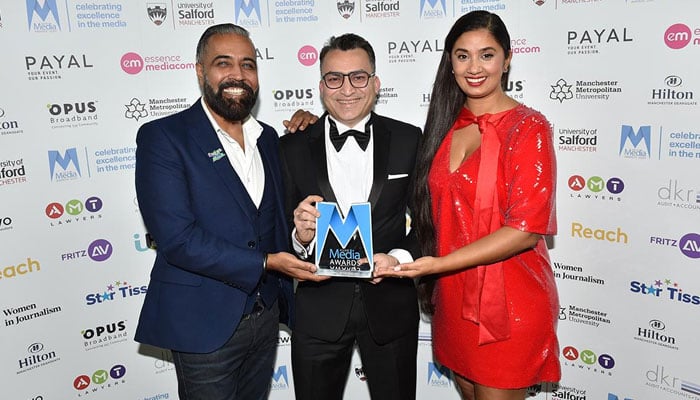 MANCHESTER: Geo Television has won the prestigious "TV Channel of the Year" award at the 2023 Asian Media Awards annual event.

Asian Media Awards are considered one of the most important Asian awards in the UK, headed by a prestigious panel of judges. Geo TV in the entertainment category was up against the leading Indian entertainment channels.
The judges concluded that Geo TV's entertainment content had proven trailblazers throughout the year, excelling in all areas and leaving behind all other South Asian entertainment channels.

The awards carry a detailed review by the panel and are competitive to the teeth as it includes some of the top media names. The panel of judges carry decades-long experience in the mainstream industry. 
This year the judges included respected British Asian media names such as Sanjay Shabi, Akanksha Saxena, Anisa Subedar, Mark Ray, Vidar Hjardeng MBE, Mirage Islam, Tony Johnston, Andrew Dickinson, Nazma Noor, Tommy Nagra, Nick Nunn, Naren Patel, Tara Prem, Debre Prinselaar, Talat Farooq Awan, Shelina Begum, Paul Broster, Shamim Chowdhury, Irvine Iqbal and Ruby Zaman.
Many Top Asian stars were present at the glitzy event held at Hilton Manchester Deansgate. 
Geo TV's head of international division Baseem Baig Chagtai was present at the event to receive the award and to deliver a short speech, thanking the hosts and the judges for recognising Geo TV on merit.
Chagtai commented: "This is where the mainstream media supports and recognises the industry talent, drive and innovation for the Asians in Britain. Daily Jang is the parent company of Geo TV Network and it was the first South Asian newspaper to take the long journey from Asia to have launched in the UK in March 1971. Geo TV today carries the culture, heritage and legacy that has been passed on to it over the five decades. This award is an accolade for the hard work that TeamGEO and those in its parent company Jang Group have delivered over the course of these 52 years.
"Today Geo TV serves up a colourful palette of channels from Sports, News, and Current Affairs to Drama Serials, Short stories, telefilms, movies, AVOD content online and much more. Jeet Kay Geo!"
A spokesperson for the awards said: "Each year we are taken aback by the quality of the entries and the shortlisting process this year was more difficult than ever. We would like to thank everyone who submitted their work and also our panel who helped to recommend stand-out projects throughout the year. The creative and live event industries continue to innovate and the awards have been keen to support their efforts through the presentation of a new award."
The 2023 ceremony was the ninth celebration to take place at the Hilton Manchester Deansgate and honoured a total of 25 categories of which there were six special awards.