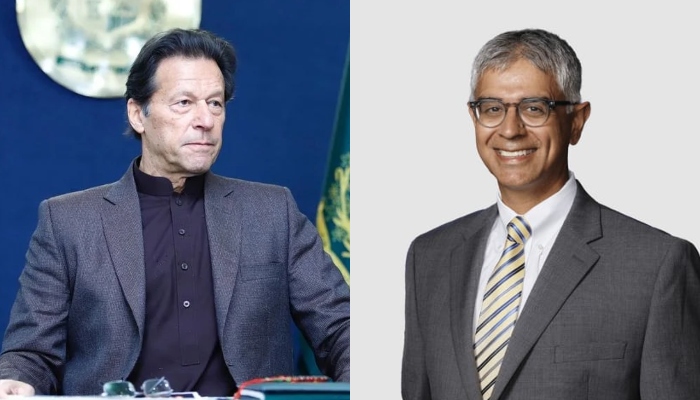 Pakistan-born lawyer Adeel Mangi, who was recently nominated for a United States federal appeals court, would become the first Muslim American to serve on the post in the country's history if the nomination goes through the Democratic-controlled US Senate.

US President Joe Biden had nominated Mangi for the 3rd Circuit of the appellate court, based in Philadelphia, along with seven other judicial nominees.
Interestingly, some quite prominent personalities are idols of Harvard and Oxford-trained lawyer.
In his office on the 26th floor of a highrise building overlooking Times Square, hung six photo frames of these personalities who inspire Mangi.
The personalities in the black-and-white nostalgic-looking pictures included the founding figure of Pakistan Quaid-e-Azam Muhammad Ali Jinnah, late US Senator Ted Kennedy of Massachusetts, former South African leader Nelson Mandela, Pakistani philanthropist Abdul Sattar Edhi, athlete Emil Zatopek and former Pakistani prime minister Imran Khan.
"All of them are people who had flaws...but all people who ultimately served others in meaningful ways and demonstrated courage at crunch moments in ways that I find inspiring," Mangi told CNBC News in an interview from 2018.
All the personalities featured in the pictures from the lawyer's office are undoubtedly among the most popular personalities in the world and inspire many across the globe.
Who is Adeel Mangi?
Mangi is currently a partner at the US law firm Patterson Belknap Webb & Tyler LLP — a company he joined in 2000 after graduating from Harvard Law School with an LLM. He is also a member of the Honorable Society of Lincoln's Inn and holds a First Class Degree in Law from the University of Oxford.
The Pakistan-born lawyer is also a member of the Advisory Board of the Alliance of Families for Justice.
Adeel Mangi has also worked with the Muslim Bar Association of New York, the Legal Aid Society of New York, and Muslims for Progressive Values.
Among his litigation highs, the lawyer, as per his law firm, had secured the largest jury verdict in the history of the Virginia court system in a theft of trade secrets case in the software industry. He has also secured the largest settlement with New York state in history in cases involving the death of a state prison inmate.
The lawyer has actively taken up religious freedom cases and was at the forefront of legal battles involving the Muslim community during the tenure of Donald Trump.
The lawyer's nomination comes as President Biden receives flak from Muslim voters for his pro-Israel stance during the conflict in Gaza and concerns over rising Islamophobia.
Furthermore, Mangi's nomination comes two years after Biden nominated Zahid N Quraishi, the first Muslim, to a federal district court. Qureshi was confirmed by the US Senate for a judgeship in New Jersey.
Quraishi is also of Pakistani descent and was confirmed by the Senate, 83 to 16 for the federal judgeship.