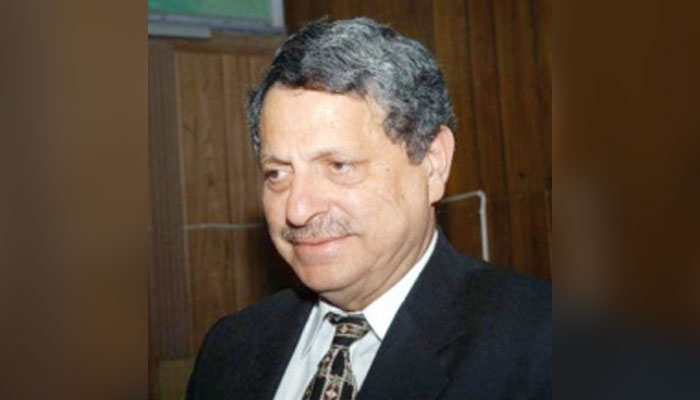 Hamid says interim govts can't interfere in constitutional matters.
Laments Constitution is currently being violated in country.
Senior jurist says all lawyers in favour of SC decision.
---
LAHORE: Pakistan Tehreek-e-Insaf (PTI) leader and senior lawyer Hamid Khan has slammed the incumbent caretaker governments in the centre and provinces for challenging the Supreme Court's decision declaring the military trial of civilians under the Pakistan Army Act 1952 as unconstitutional.

Addressing a press conference in Lahore today, Khan said the interim governments have no mandate to file review appeals against a SC verdict. His remarks came after the caretaker federal and provincial governments of Khyber Pakhtunkhwa (KP) and Balochistan on Friday filed intra-court appeals against the apex court's October 23 judgment.
The same day a petition was also filed by the defence ministry and federal government challenging the verdict.
Earlier, the Sindh caretaker government and others separately requested the apex court to set aside its judgment declaring unconstitutional the trials of civilians in military courts. However, the Sindh government later denied doing so.
The PTI leader, addressing a press conference in Lahore today, termed the caretaker governments "unconstitutional", adding that their term has expired.
The senior lawyer added that the Constitution is currently being violated in the country. "Caretaker governments cannot interfere in constitutional matters."
Lauding the apex court's decision on military courts, the lawyer emphasised that the military courts were challenged by the Supreme Court Bar Association (SCBA). "All lawyers are in favour of the decision given by the SC."
Lahore High Court Bar Association President Choudhary Ishatiaq Ahmad Khan reiterated that lawyers stand by the apex court and can never accept military courts, paying tribute to the judges for the verdict quashing civilian trials in the aforementioned courts.
He demanded that caretaker governments withdraw their appeals immediately.
Lahore High Court Bar Association Vice President Rabia Bajwa said the SC has given a decision according to the Constitution and law. She also lamented over the Senate approving a resolution regarding the military courts.
She also urged halting the exploitation of women political workers.