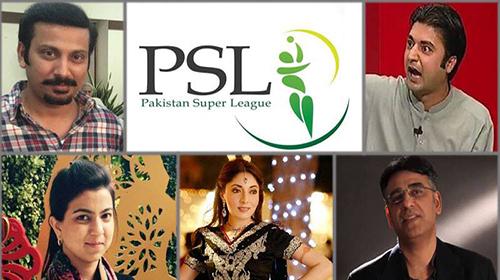 By: Ashar Zaidi
PSL is finally here and it's rocking and with each show it's not only killing skepticism but also forcing masses to passionately fall in love with it. Ashar Zaidi talks to some charismatic politicians to find out what teams they follow and who they tip to be crowned 'Shahenshah'.
Pakistan Cricket Board's great fiesta, the PSL is definitely creating ripples amongst fans and all that matter. The long awaited and frequently shelved league seems to have found the perfect mix of all the right ingredients that promises to turn it into a spicy and mouth watering dish, just according to popular demand.
Pakistani politicians and the common masses hardly ever walk the same route on any issue under the sun, but the enthralling first phase of PSL has performed the unimaginable, forcing these two opposite pools to come together and support the inaugural league with full force.
Trying to capture the festive mood, Geo News talked to a young breed of cricket mad politicians to see which franchise enjoys their loyalty and how they see PSL nourishing cricket in Pakistan.
Murad Saeed – The fearless Zalmi
Favoutire Team : Peshawar Zalmi
Finals Prediction : Zalmi vs Kings

The firebrand MNA from Swat is the torch bearer for PTI's struggle for change. A regular on talk shows, either defending his party or ferociously attacking opponents, his presence can set ablaze any show, making him a darling of the host and production team.
Honestly, I was a bit scared calling up Murad, fearing his stereotype image to haunt me. But as soon as I mentioned cricket, the player inside him suddenly padded up.
His love for the game goes back to his school days (Swat Public School) where he played as a middle order batsman and a handy stock bowler. Later, Tipu College in Swat discovered his talent as a reliable opener. He also won the player of the year award during the Inter-Departmental games at Peshawar University where he is enrolled in Environmental Studies program. Wasim Akram and Virat Kohli remain to be his all time favorites.
Murad is a busy man, but PSL has got him all hooked up and he tries to catch up whenever he can. No surprise that Zalmi is in his heart and he finds Zalmi fever gripping entire Swat and Khyber Pakhtunkhwa. Tamim Iqbal, Wahab Riaz and Darren Sammy have impressed him, while he finds Afridi a man for all seasons, if he fails with the bat he will definitely shine with the ball.
The young PTI leader also has a liking for Kings Captain Shoaib Malik and that's where his loyalties take a dent, forcing him to predict a Zalmi vs Kings final. He considers PSL as a life tonic for Pakistan cricket that is giving new and old talents a chance to rub shoulders together. He hopes to see PSL in Pakistan very soon.
Faisal Subzwari – The Kings Man with Gladiators Touch
Favoutire Team: Dil kehta hai Kings, Dimagh Gladiators keh sath
Finals Prediction: Gladiators vs Zalmi
Movie star looks (recently resembling Ajay Devgan), immaculately dressed, each word coated with admired culture and mannerism, MQM Lawmaker Faisal Subzwari hardly steps a wrong foot. The former minister for youth and culture has cricket running in his blood, just go through his Twitter account during matches to admire his passion for the game.
Being a true Karachiite, he naturally cheers for the Kings but is skeptical about their selection and doesn't hide his disappointment on Kings not picking enough local talent. He is baffled by the fact that swashbuckling Karachi opener Shahzaib Hasan could only make it to the supplementary category.
This disparity in selection has divided his loyalties between Kings and Quetta that have run away with a majority of Karachi's top performers.
PSL, however, as a product has immensely impressed him. Seeing young players getting a chance to shine at the top level excites him. Local fans being deprived of the fun is a crude fact but hopes that the next season would fill local stands.
Perhaps its Faisal's love for pace that he finds quickies like Shaun Tait and Wahab Riaz exciting to watch, while Muhammad Nawaz for him is the find of the tournament. Sarfraz is the future of Pakistan but he was disappointed with the team's performance against Qalandars – the only game that Gladiators have lost thus far in the tournament.
As a word of caution, Faisal advices young players to perform high while keeping their feet on the ground, as history is full of examples where the demon of fame and limelight has often forced talented players to lose focus and create bad headlines.
Sharmila Farooqui – The Kings Jiyali
Favoutire Team : Karachi Kings
Finals Prediction: Kings vs Gladiators
With looks that can melt a stone yet a cutthroat attitude that silences her fiercest of opponents, Sharmila Farooqi is the darling of Sindh politics. The bold and beautiful PPP lawmaker and Special Advisor to the CM, has a charismatic personality that almost always bring her to center stage.
A social media junkie who loves to interact with people, it wasn't long before I was testing her PSL knowledge, and she appears to be in good touch. Following the Kings and Gladiators keenly, her list of impressive performers seems to be a bit too stretched. Peterson, Aamir, Hafiz, Irfan, Gayle, Sarfraz, Shehzad, Malik, Bopara, Anwer Ali, Nawaz, Zulfi Babar and the list goes on and on. She loves Lasith Malinga for his crazy hairstyle but has no clue how he manages to wash and brush them, if he ever does.
Telling her that most women would struggle remembering half these names, Sharmila replied with a few similes. This hard work is targeted towards winning accolades in her TV lounge, where her cricket crazy husband Hasham Riaz Sheikh, never misses a game. She tries to impress him with a new bit on info but often fails against the depth of his search engine style database.
Like others I talked to, Sharmila praised PCB's efforts for initiating PSL and hopes to see it happening in Pakistan soon. Impressed with the popularity of the carnival, her Husband plans to buy a franchise in years to come, maybe as soon as next year.
Shaza Fatima Khawaja – Dama Dam Mast Qalandar
Favourite Team : Lahore Qalandars
Finals Prediction : Qalandars vs United
Fresh and soft looks, well educated and closely knitted with the youth, Shaza Fatima Khawaja highlights the revamped look of PML-N, and is the youngest ever MNA from Pakistan. Niece of PML-N heavyweight Khawaja Asif, Shaza has a Masters in Political Science from Warwick University and appears to be a long term investment in the PML-N hierarchy.
Shaza has always been the sporty kind. She played football as a midfielder and is an avid Barcelona fan. Going far beyond her dribbling skill, she captained the badminton and table tennis teams at LUMS.
The very mention of Lahore Qalandars sets her in the dhamal mode, a team she finds close to heart and follows whenever she can. Initially saddened by their poor show, Shaza was in for a double surprise when Gayle was dropped and then Gladiators trashed.
She thinks Azhar Ali is most suitable to lead the team and should be given more time to adjust rather than pushing the captaincy musical chair. Delport and Umar Akmal brought back the needed spark and she feels excited that finally Qalandars have emerged as a force to be reckoned with.
Watching matches with her husband Ammar Naveed is more fun and interestingly, supporting Qalandars is one of the few things they immediately find consensus on.
For her, PSL is an excellent product that should pick up pace in years to come. Zimbabwe's coming to Pakistan was the first step towards bringing sports back and she hopes that PSL will be hosted in Pakistan very soon.
Brett Lee, for his poster boy looks and fearsome pace is her all time favorite.
Asad Umar : United all the Way
Favorite team: Islamabad United
Finals Prediction: United vs Zalmi
A corporate titan, highly successful business administrator who quit his job as the most desired CEO of Pakistan to Join politics and is currently the senior vice president of PTI. Coming from a humble background he has achieved what most can only dream in life, yet he remains an utterly humble person.
He might not fit the list of young and dynamic politicians, but his immaculate personality and of course; love for cricket earns him a coveted place.
Asad's crazy schedule hardly gives him the luxury to watch the games, but he didn't waste a second to shower his love for the United. Every now and then he would poke someone for updates and is an ardent Misbah fan.
Visibly concerned about the happening at PSL, he asked me if the event was attracting sizable Dubai crowds. As a businessman who knows how to turn things around, he sees huge potential in PSL and wants to see Islamabad play in front of their home crowd.
– Ashar Zaidi is a Senior Sports Anchor with Geo News, he tweets at @AsharZaidiGeo