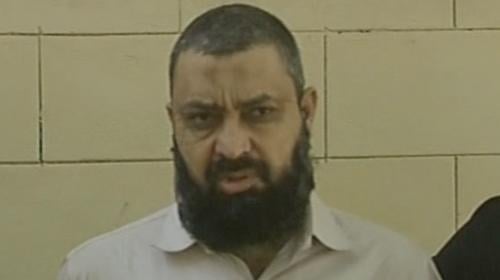 From being recruited fifteen years ago into the Lashkar-e-Jhangvi, to becoming one of the most notorious terrorist masterminds in Pakistan; a near decade long incarceration could not change the man known by over half a dozen identities. Back in custody of the LEAs, here we look at Naeem Bukhari and how he became one of Pakistan's deadliest terrorists.
By: Syed Arfeen
Having opened his eyes in Karachi's middle class neighbourhood of Nazimabad, Ata-ur-Rahman (aka Naeem Bukhari) was one of seven siblings with two other brothers and three sisters.
Born in 1971 on the 26th of October, Ata-ur-Rahman gained his early education at the Shoaib Mohammadi Boys Secondary School, Nazimabad from 1976 to 1989. After completing his matriculation he started working at his uncle's general store which he continued till 1997. He joined the now-defunct terrorist organization Sipah-e-Sahaba (SSP) in 1996 while still working for his uncle.
Entranced by the Friday sermons of deceased SSP leader Maulana Azam Tariq that he regularly attended at the Siddiq-e-Akbar mosque located on Nagan roundabout, Bukhari played his part in collecting donations and pasting posters of the banned organization.
Militant Indoctrination
In 1998, Naeem Bukhari joined the Lashkar-e-Jhangvi (LeJ) which had only been formed two years earlier by members of the Sipah-e-Sahaba (SSP) including Riaz basra, Akram Lahori and Malik Ishaq.
The same year, Naeem Bukhari went to Khost, Eastern Afghanistan to attend militant training.
During his 40 days stay at the camp, he received physical and military training, while he also attended lectures that used to brainwash and prepare militants for Jihad.
In 1999 Bukhari met Amjad Farooqui, the leader of the banned Harkat-ul-Jihad-e-Islami and the very next year one the most lethal terrorists and one of the founders of the LeJ, Riaz Basra offered Bukhari to work with him.
In 2001 while in Afghanistan, Bukhari met with Mati-ur-Rehman another most wanted militant in Pakistan. Rehman who is still at large and carries a Rs 10 million ($100,000) reward on his head was instrumental in the killing of American journalist Daniel Pearl in 2002.
Aliases
Ata-ur-Rahman, Naeem Bukhari, Abu Haris, Abdullah, Ahsan Bilal, Lala, Bhai Saheb and Ghullam Mohammad are the known aliases used by the notorious terrorist mastermind. Bukhari is said to have possessed seven different National and Database Registration Authority (NADRA) identity cards with the most recent under the alias Ghullam Mohammad (42101-7616001-1) son of Faqeer Mohammad. The most recent CNIC was issued on the 6th of November 2014 and would remain valid till 2021.
Arrest, Incarceration and subsequent release
In 2002, Pakistan Rangers (Sindh) apprehended Naeem Bukhari along with a close lieutenant from Gulshan-e-Iqbal, Karachi. According to Naeem, he remained in Rangers' custody till 2007 when he was handed over to the Sindh Police. He was then booked under the illicit arms section and was sent to Sukkur Jail where he remained until his release in 2011.
Following his release Bukhari went to Miranshah, the headquarters of North Waziristan agency (NWA) in 2012. His house in North Waziristan was also raided by the law enforcement agencies.
Meeting Musanna
In the summer of 2012, he tried to travel to Karachi against the advice of his comrades and family members. Unable to reach Karachi, Bukhari returned back to Miranshah after traveling half the distance. During this failed attempt to travel to Karachi he met Farooq Bhatti aka Musanna along the way.
Two months after his failed attempt, Bukhari along with his family reached Karachi and took up accommodation at his sister's house in the city's industrial area.
On the agency radar
During the period he spent living at his sister's house, the security agencies picked up on his presence in the metropolis. He wanted to take his family and flee back to Miranshah but only managed to escape the city alone and reach Mir Ali another tehsil of NWA – while his family remained in Karachi.
Bukhari returned to Karachi in 2014 and started working with Musanna on mega terror plots.
Off the network
During interrogations Bukhari revealed that he did not use a cellular phone and that he would only communicate using the Public Call Offices (PCO). He told interrogators that he would never use the same PCO twice.
To evade getting caught, Bukhari told interrogators he wouldn't inform anyone about his movements when he would go to meet contacts. To avoid any action from the LEAs he travelled on a motorbike to blend in the crowd.
Business Interests and Family
Naeem Bukhari is said to own six shops in Nazimabad that he had given out on rent. According to investigations his permanent address was in CRBC colony, Yousuf Adda, Dera Ismail Khan while his temporary address on record was in Paposh Nagar, Nazimabad, Karachi.
Naeem Bukhari fluently speaks Pashtu and Urdu. He married a girl from Landhi in 1992 and fathered five daughters.
Criminal Activities
According to the Counter Terrorism Department [CTD] Sindh's Redbook, Naeem Baukhari is said to be an expert in bomb making. He was involved in multiple sectarian killings in the metropolis.
Meanwhile, DG ISPR Lt. Gen. Asim Saleem Bajwa revealed during a press conference last week that Naeem Bukhari was the mastermind behind some high profile attacks in the country including the attack on the Pakistan Navy's Mehran, the attack on the Karachi Airport, the Kamra Airbase attack, the attack on the ISI office in Sukkur and the 2002 murder of American journalist Daniel Pearl.
For his involvement in these attacks the Sindh government announced Rs. 20 million ($200,000) head money on Naeem Bukhari.
The author is Geo News' Special Correspondent and he tweets as @arfeensyyed