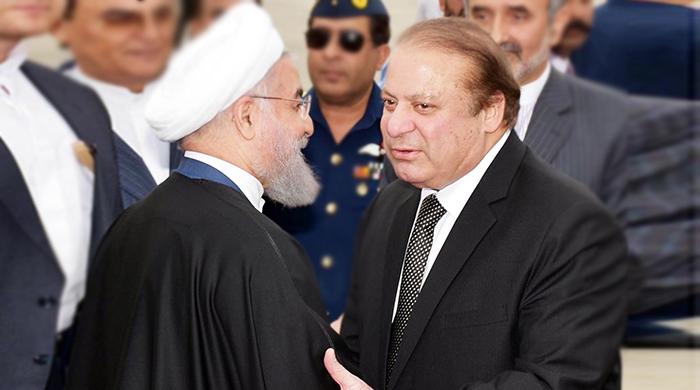 ISLAMABAD: Visiting Iranian President Hassan Rouhani said on Friday 'Pakistan's security is our security and Iran's security is Pakistan's security' and the two countries have to join hands for more secure and peaceful borders.
President Rouhani is currently on a two-day official visit to Pakistan on the invitation of PM Nawaz Sharif. This is his first visit to Pakistan as the President of Iran. He is accompanied by a high level delegation comprising Ministers, senior officials and businessmen.
Speaking to the media after their wide ranging talks here, President Rouhani and Prime Minister Nawaz Sharif said Pakistan and Iran have reiterated their resolve to enhance the level of bilateral cooperation in diverse fields, including trade, economy and energy.
Prime Minister Nawaz said the two countries have decided to open two new border crossing points to encourage trade and economic activities and facilitate people to people contacts.
He hoped that the additional crossing points would greatly reduce the travel time and contribute towards economic integration of the region.
Nawaz Sharif said the two countries signed several Memorandum of Understandings (MoUs) today in diverse fields, which would further enhance the bilateral cooperation including economic and social sectors.
The Pakistani premier expressed the confidence that Pakistan-Iran relations would continue to grow from strength to strength. The two sides reaffirmed their resolve for cooperation and work together for the benefit of the two people.
Prime Minister Sharif noted that the two countries enjoy cordial and fraternal ties embedded in shared history, culture and faith. He said it was his third meeting with the Iranian President which reflected warmth and depth of relations between the two countries.
He said during the one-on-one meeting and delegation level talks, the two sides discussed the whole range of bilateral relations as well as regional and international issues of mutual interest.
The Iranian President said in today's talks, the two countries took stock of the existing state of relations and how to enhance economic interaction. He said they talked about issues relating to energy, gas and export of electricity.
Hassan Rouhani said they also discussed ways and means to increase bilateral trade between Pakistan and Iran, adding that there were vast opportunities to increase the bilateral economic cooperation.
The Iranian president said they explored the possibility of having closer relationship and better connectivity between Gwadar and Iranian port of Chahbahar – RadioPakistan/Geo