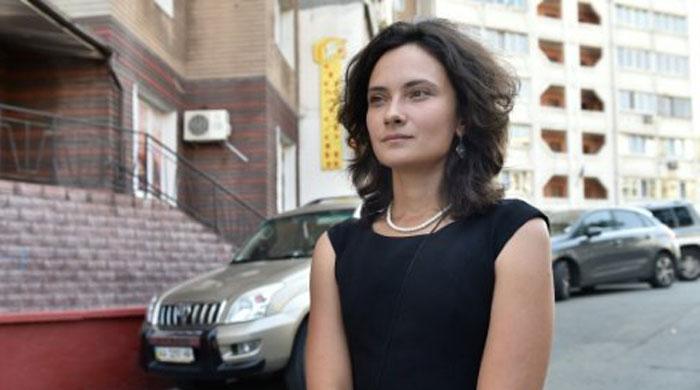 KIEV: It was yet another online discussion blaming a rape victim for provoking her attacker that prompted Ukrainian activist Anastasiya Melnychenko's campaign to shatter taboos in her homeland and neighbouring Russia.
In response Melnychenko typed out an unflinching account of the string of sexual assaults she has suffered throughout her life then posted it on Facebook with the hashtag #IAmNotAfraidToSpeak, repeated in Ukrainian and Russian.
Her courageous move this month opened the floodgates and soon hundreds of women in Ukraine and Russia started to share their own personal stories of sexual violence, a subject that is more often hushed up or ignored.
For many of the women it was a powerful way to release pent-up painful memories.
"I was a schoolgirl, when it happened. A young guy followed me to my house, pulled me by the jacket", wrote 30-year-old art critic Asia Bazdyrieva.
"I was 19, it was my boyfriend´s pal. He was two metres (six foot five) tall, very big and strong. The street was completely empty and I was afraid to resist. He raped me," posted mother-of-four Valeriya Bezlepkina.
"I was a young girl with freckles from a poor district. Violence was a common thing there, familiar to every girl I knew", shared famous restaurant critic Aurora Ogorodnyk.
Melnychenko's openess helped to break down a wall of silence that activists say exists around the issue of sexual violence and especially rape in the ex-Soviet region.
"In our society blaming the victim is the norm", Melnychenko told AFP.
"That is why women are silent about the abuse. They do not talk about these incidents to their relatives or to the police because they are afraid of being condemned".
Violence loves secrecy
In Ukraine a country of some 45 million inhabitants only around 320 cases of rape or attempted rape were registered by the authorities last year 
Rights activists insist that the small number of reported attacks does not represent the true scale of the problem.
"Sexual violence is a subject that gets disregarded", says Anna Sayenko, a lawyer from La Strada Ukraine, an international women´s rights centre.
In most cases women do not immediately go to a police station for a forensic examination due to fears of being judged by society, Sayenko said.
"The most important thing is to convey to women that the first thing they need to do if it happens to them is to contact the police", she said.
By breaking through the fear of how people will react, Melnychenko´s online campaign appears to have struck a deep chord with women in both Ukraine and Russia. 
Psychologist Alevtyna Shevchenko says such sharing of experiences works as a sort of group therapy, where the interaction between the participants encourages even those who are usually silent to talk.
"Violence loves secrecy and silence," Shevchenko says.
"Admitting out loud that the problem exists is the first step towards solving it. There is no other way".
Brave pioneers
Not all reaction to the campaign has been positive, however.
Some online commentators, mainly men, accused the participants of "exhibitionism" and performing a "public striptease", with one labelling the campaign a "festival of homemade porn".
But broadly speaking the response appears to have been supportive and a Ukrainian lawmaker on Tuesday said that deputies were already collecting signatures to change legislation on sexual violence against women after reading the posts.
Melnychenko hopes that she and the women who have come forward with their experience especially those who spoke about being raped have sparked a shift in the discussion that will bring about a real change in Ukraine as it tries to pivot towards the West.
"Public debate is a big step for our society," she said.
"Thanks to these brave pioneers, other women have realised that they are not alone and they have more support than they thought."