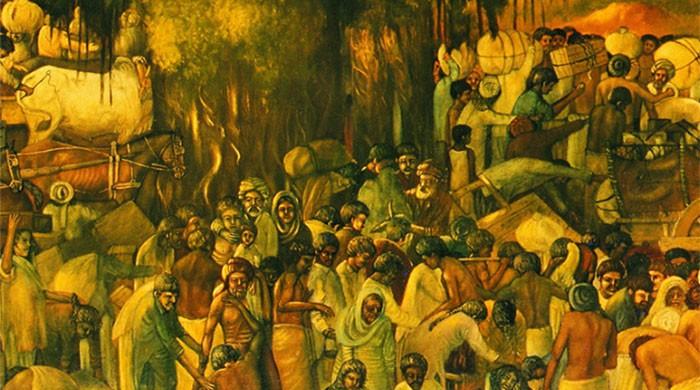 KARACHI: To further consolidate the decades-old Pak-China friendship and to further deepen the bond between the two countries, a donation of a historical work of art by renowned Pakistan artist, Jimmy Engineer, has been made to the National Art Museum of China, Beijing.
This is the first time ever any Pakistan artist's work has been featured in China's premiere museum. The Chinese Consulate in Karachi approached Jimmy Engineer to donate one of his works to China's museum and after going through a vetting process, the museum accepted a masterpiece for their permanent collection.
The painting that has been selected for the museum is titled, 'International Architectural Composition'. It is a 3 feet by 6 oil on canvas painting completed last year.
In the third week of March, the Embassy of Pakistan in Beijing will be organising an art exhibition, featuring Jimmy Engineer's work.
Pakistan's Ambassador to China Masood Khalid, along with Jimmy Engineer will officially present the said painting to the National Art Museum of China.
Jimmy Engineer is an artist and social worker who has devoted his life to helping the less fortunate, especially disabled children, through his art.
He has organised and participated in a number of initiatives to raise funds for such causes.
"As an artist and social worker, I feel I have a responsibility to promote a positive image of Pakistan not only within the country but all over the world," said Jimmy Engineer.
He has won around 85 commendation certificates and awards from different organizations across the globe including National Endowment of the Arts Award, USA in 1988, Gold Medal by International Cosmopolitan Rotary Club of Pakistan in 1997, Human Rights Medal by the Human Rights Society of Pakistan in 2000, Sitara-e-Imtiaz in 2005 and The Peace Ambassador's Medal by China World Peace Foundation Beijing in 2016.