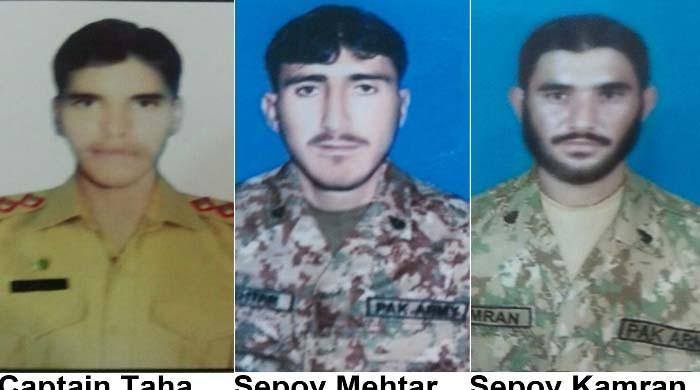 AWARAN: Three Pakistan Army soldiers embraced martyrdom in an IED blast on Thursday in Balochistan's Awaran district, the ISPR said.
According to the ISPR, three Pakistan Army soldiers including a captain were martyred in the blast near an army convoy.
Meanwhile, two soldiers were also injured in the assault.
Those martyred include Captain Taha, Sepoy Kamran Satti, and Sepoy Mehtar Jan.
Prime Minister Nawaz Sharif condemned the assault, saying that coward enemy can only carry out such acts as it cannot face brave armed forces.
The Chief of Army Staff Gen Qamar Bajwa condemned the incident, saying that no one can deter the Army's resolve to defeat enemies and safeguard 'our Pakistan'.
The province of Balochistan is one of the sensitive areas of the country due to an ongoing insurgency and security agencies' operations to counter it.
This has led to a considerable drop in militancy in the province but scattered attacks are still reported at times.
Security forces have since then intensified intelligence-based and combing operations in the province in an effort to establish peace.
In the last month, Frontier Corps (FC) Balochistan and secret agencies have been carrying out Intelligence Based Operations (IBOs) and counter-terrorism operations in the province.
On Jan 29, large amount of arms and ammunition have been recovered from banned organisation Balochistan Liberation Army's (BLA) hideout by FC and security agencies, ISPR said. The security forces conducted the operation in Peshi area in Kahan, Balochistan.
Discovered weaponry included 70 rocket-propelled grenade (RPG) shell- and missile-launchers, 12 rocket fuses and mortar bombs, five bundle-detonating cords, thousands of rounds of different types, and various destructive materials as well.
On Jan 21, the ISPR said that FC Balochistan along with other Law Enforcement Agencies apprehended 81 suspects and recovered huge cache of arms and ammunition foiling terrorist actions.