SEHWAN/KARACHI: At least 88 people were martyred Thursday when a suicide bomber attacked the crowded Sufi shrine of Lal Shahbaz Qalandar in Sehwan, injuring up to 343 others, DG Health Services Sindh-Hyderabad said on Friday.
On Thursday, the powerful blast took place inside the premises of the shrine as a dhamaal was taking place.
A large number of people from different parts of the province were gathered at the shrine when the blast took place.
Devotees throng to the shrine of the revered Sufi saint every Thursday to participate in a dhamaal and prayers. The explosion occurred after devotees had gathered inside the premises of the shrine.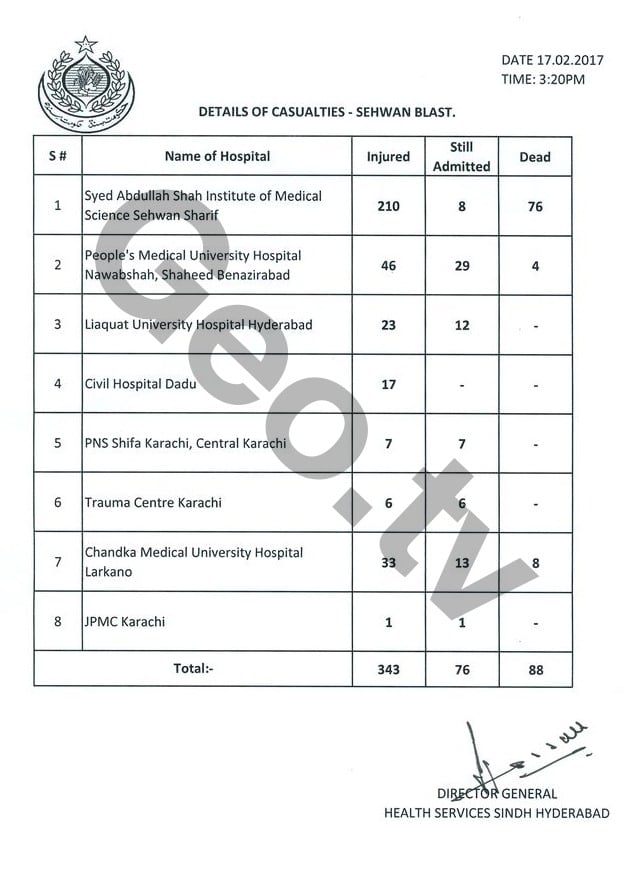 Seven critically injured patients braving head wounds arrived from C-130 jet to Karachi. According to rescue sources, the injured were immediately shifted to a private hospital. Earlier, six other patients arrived in the metropolis on self-help basis.
The incident left not only the bereaved families devastated but also the locals who went outside the shrine to protest on Friday morning.
Suicide bomber was not a female: CTD official Raja Umar Khattab
Senior Counter-terrorism department (CTD) official Raja Umar Khattab dispelled initial reports that the suicide bomber was a female. He said that evidence suggested that the suicide bomber was a male. The long hair found at the blast site, he added, most likely belonged to one of the dervish at the shrine.
He added that not much explosives were used in the suicide jacket, and the deaths and injuries were caused due to the ball bearings present in the jacket.
Earlier, Deputy Inspector-General (DIG) Hyderabad Khadim Hussain Rind said more than 300 people were injured in the explosion, the latest in a series of terrorist attacks in the country, he further informed that the suicide blast occurred at the main gate of the shrine by a bomber who covered himself with a Burka.
Officials confirmed the suicide bombing took place inside the complex of the shrine, with eyewitnesses saying the explosion caused people to panic and triggered a stampede inside the crowded shrine.
An initial investigation report by bomb disposal squad confirmed that the incident was due to suicide bombing with the explosives of at least eight kilograms. Nut-bolts were used in the bomb along with the dynamite.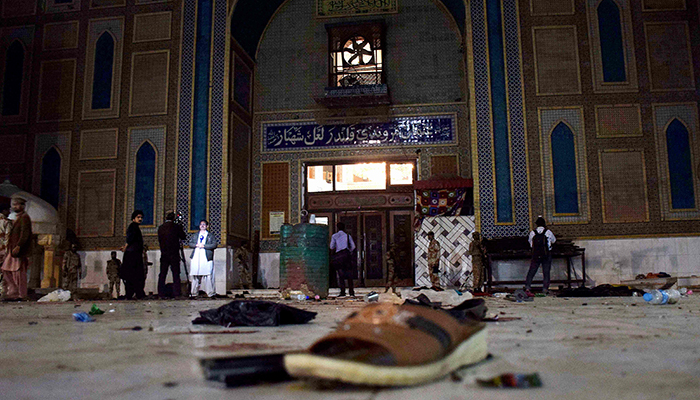 Terrorist organisation Daesh has claimed responsibility of the attack.
Meanwhile, IG Sindh AD Khuwaja said that though the terror group has claimed responsibility on social media, however, police is still investigating to confirm the responsible indivisuals or group for this terror attack.
"We have to take this news with precaution, we are looking into the case," he said.
A forensic van arrived on early Friday morning from Karachi to gather pieces of evidence from the site.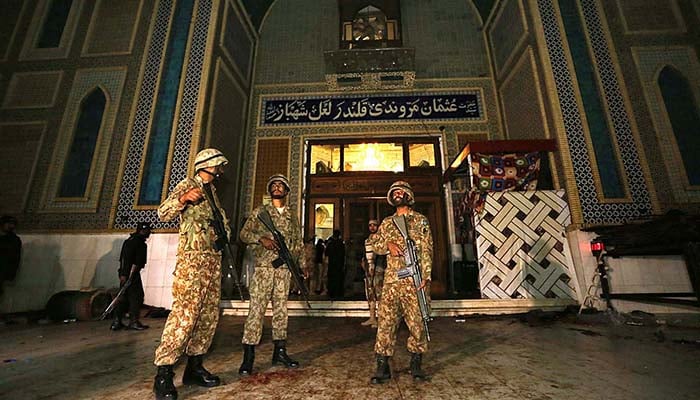 Hours after the bombing, the ISPR announced the closure of the Pakistan-Afghanistan border with immediate effect due to security reasons.
Related: Security concerns prompt closure of Pak-Afghan border
Nation's blood to be revenged immediately: COAS
In a statement issued shortly after the terrorist attack, Chief of Army Staff General Qamar Javed Bajwa appealed to the nation to stay calm.
"Your security forces shall not allow hostile powers to succeed. We stand for our nation," he said in a statement tweeted out by DG ISPR Major General Asif Ghafoor.
"Each drop of nation's blood shall be revenged, and revenged immediately. No more restraint for anyone," said the Army chief.
#Sehwan. Air Chief directs to utilise C 130 till complete evac. Injured will be treated at PAF hosps too. Ts will not be spared.

— Maj Gen Asif Ghafoor (@OfficialDGISPR) February 16, 2017
#COAS, "Each drop of nation's blood shall be revenged, and revenged immediately. No more restraint for anyone."

— Maj Gen Asif Ghafoor (@OfficialDGISPR) February 16, 2017
Recent Ts acts are being exec on directions from hostile powers and from sanctuaries in Afghanistan. We shall defend and respond.

— Maj Gen Asif Ghafoor (@OfficialDGISPR) February 16, 2017
#Sehwan. CNS placed all Naval Hospitals at Karachi on high alert. Ready to receive injured through night capable heli.

— Maj Gen Asif Ghafoor (@OfficialDGISPR) February 16, 2017
Also read: Recent terrorist attacks being executed from sanctuaries in Afghanistan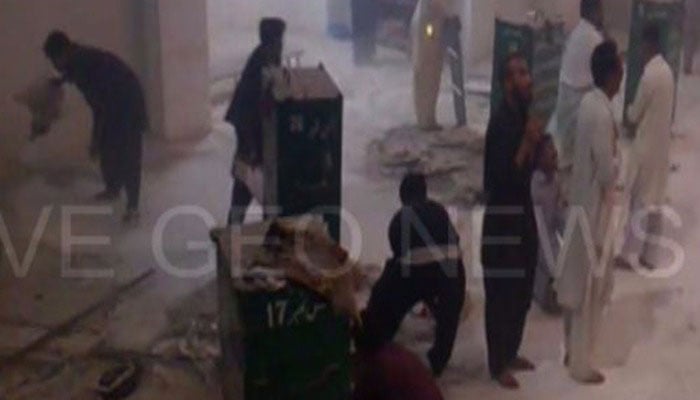 Lack of medical facilities
Sehwan is located in Jamshoro district which is Sindh Chief Minister Murad Ali Shah's constituency. The area is located far from any hospital, with the nearest medical complex located 40 to 50 kilometres from the site of the blast.
Speaking to press, the provincial chief minister accepted the lack of adequate medical facilities in Sehwan, but said that the government had ordered ambulances to move from the nearby Dadu and Hyderabad areas.
"Around 70 bodies are in the hospitals," he said." Eight ambulances reached the site of the incident. Residents of Sehwan shifted the injured in their motorcycles and car."
He reiterated that: "the nation will bring the terrorists to their ultimate fate."
The Sindh government announced a three-day mourning for victims of Lal Shahbaz Qalandar blast.
Governor Sindh Muhammad Zubair condemned the cowardly attack saying it is a part of recent wave of attacks. "We will fight back these attacks the way we have fought in the past," he said.
The governor said all efforts being made to rescue as much affectees as could be. "We are in touch with the provincial government about transporting the wounded to hospitals."
Sehwan Sharif lies at a distance of 284.4km (approximately four hours and 43 mins) from Karachi. The distance from Nawabshah to Sehwan is 95.4km, which takes around one hour and 24 mins to travel, while it takes 50 minutes, or 49 kilometres, to travel to Dadu. Sehwan to Jamshoro takes around one hour 47 minutes, having a distance of 134.3km in between.
'Attack on Pakistan's future'
In a statement, Prime Minister Nawaz Sharif decried the attack on the Sufi shrine.
"The past few days have been hard, and my heart is with the victims," Sharif said. "But we can't let these events divide us, or scare us. We must stand united in this struggle for the Pakistani identity, and universal humanity."
"Sufi saints played a major role in the foundation of Pakistan," the prime minister said. "This is an attack on Pakistan's future."
Wave of terrorist attacks
The attack in Sehwan on Thursday is part of a recent wave of terrorist attacks in the country, and the fifth blast in less than a week targeting innocent people.
On February 12, a cameraman, Taimur from Samaa News was killed when the channel's DSNG van was attacked.
On February 13, a suicide attack in Lahore killed 14 people and wounded over 60 others.
On February 15, three suicide bombers targeted Khyber Pakhtunkhwa and the adjoining tribal areas leaving around seven people dead. One of the incidents occurred in Peshawar where a suicide bomber riding a motorbike hit a vehicle carrying civil judges, while two other suicide bombers blew themselves up at separate locations in Mohmand Agency.
Symbol of peace and tolerance
The shrine of Sufi saint Lal Shahbaz Qalandar, a place welcome to all regardless of their creed, caste or greed, was built in 1356 in honour of one of Sindh's most revered poet, philosopher and Sufi saint.
It is believed that the saint, originally from Persia, resided in Sindh during the 13th century. Lal Shahbaz Qalandar or 'Laal Saeen' (as known to his followers) preached peace and tolerance and because of this people from all walks of life come every year to attend the saint's Urs, which is held from 18 to 20 Shaban.
Terrorists have targeted shrines of Sufi saints in the past.
In November, at least 52 people were killed and more than 100 got injured in a suicide blast in Shah Noorani shrine near Hub in Balochistan's Lasbella district. Additional Deputy Commissioner Lasbella Tariq Mengal had said that 500 to 600 people were in the shrine at the time of the blast.