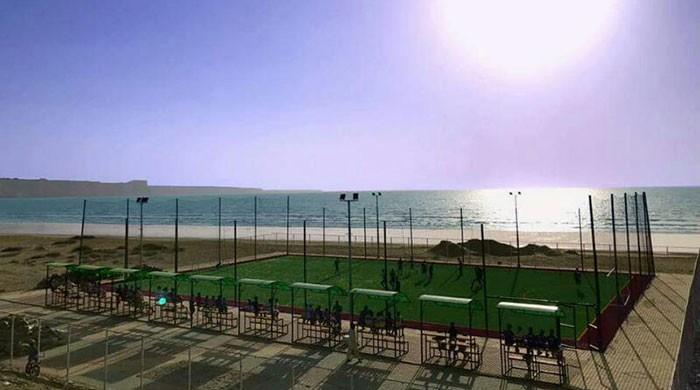 KARACHI: While the Pakistan Football Federation is in doldrums and unable to provide facilities to footballers in the country, the private sector in the country has stepped up to do the job.
Pakistan's beautiful coastal area of Gwadar is already in the news for so many weeks due to CPEC project, and now the city has got a FIFA certified artificial turf, under a public-private project.
Country's mini-football operating company Total Football, in collaboration with Balochistan government, has installed a state-of-the-art mini-football facility in Gwadar, with FIFA certified artificial turf.
Being just next to the beach in Gwadar, the facility provides an eye catching view, and a great opportunity for the local talent to carry on their Football activities.
"In Gwadar, the local football enthusiasts can be seen wearing shirts of the top European clubs. Some of them are local fishermen who go fishing in the morning wearing their football jerseys, and after returning in the evening they play football with bare feet on the beaches," said an official of Total Football.
"Fish carcases are usually lying close to where they are playing football but that doesn't keep them from playing because they view football as an escape from all the difficulties and stresses of their daily lives. Now, with the new, scenic football facility in Gwadar by the coast, these and other local players will be able to pursue and enjoy their passion in a world-class footballing environment," he added.
According to officials, the facility will also be used for other events including training, for both children and adults, as well as for non-profit community engagement activities.