RAWALPINDI: Pakistan Army has taken custody of infamous Lyari gangster Uzair Baloch on charges of espionage, the Inter-Services Public Relations (ISPR) confirmed late Tuesday, after nearly 15 months of his detention with different law enforcement agencies following his arrest in January 2016.
Baloch was apprehended by Rangers from the outskirts of Karachi on January 30, 2016, while he was attempting to sneak into the city. He had fled the country following the launch of an operation in the megapolis against criminal elements back in 2013.
Read: Who is Uzair Baloch
Director-General ISPR Major General Asif Ghafoor confirmed via Twitter that the Army has taken custody of Baloch for leaking "sensitive security information to foreign intelligence agencies."
A Joint Investigation Team (JIT) probing notorious Lyari gang-war leader Uzair Baloch completed its investigation in March, 2016.
The JIT report stated that Baloch was spying for an Iranian intelligence agency and recommended that the gangster be tried by a military court.
The report, after its findings, also urged the National Accountability Bureau (NAB) and Federal Investigative Agency (FIA) to probe the issue of land-grabbing in relation to Baloch.
Read: Uzair Baloch spied for Iranian agency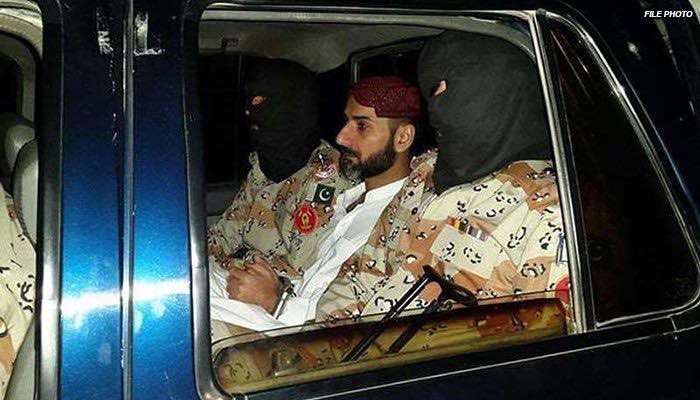 Pictured: Baloch, flanked by Rangers personnel, at the time of his arrest in January 2016.
Uzair Baloch was also said to be in contact with Kulbhushan Jadhav an on-duty Indian Navy officer arrested by Pakistani intelligence agencies from Balochistan in March 2016 - besides being involved in anti-state activities.
Read: Pakistan sentences Indian RAW agent Kulbhushan Jadhav to death
On Monday, Pakistan also sentenced Kulbhushan Jadhav to death for carrying out espionage and sabotage activities in Balochistan and Karachi. Chief of Army Staff General Qamar Javed Bajwa confirmed the death sentence awarded by the Field General Court Martial under the Pakistan Army Act.
It has been learnt that Uzair Baloch will now be tried in a military court.