LAHORE: Pakistan Muslim League – Nawaz (PML-N) candidate Begum Kulsoom Nawaz Sunday won the closely contested by-election for her husband Nawaz Sharif's 'home seat' NA-120 on Sunday.

According to unofficial and unverified results, Kulsoom Nawaz managed to attain 61,254 votes, while her competitor, Pakistan Tehreek-e-Insaaf's Dr. Yasmin Rashid attained 47,066 votes.
Maryam Nawaz Sharif, who ran her mother's campaign, tweeted following the victory: "Shukar Alhamdolillah a million times ! This was PMLN vs ALL !"
Addressing party workers at the party's Model Town office, Maryam congratulated PML-N workers and supporters.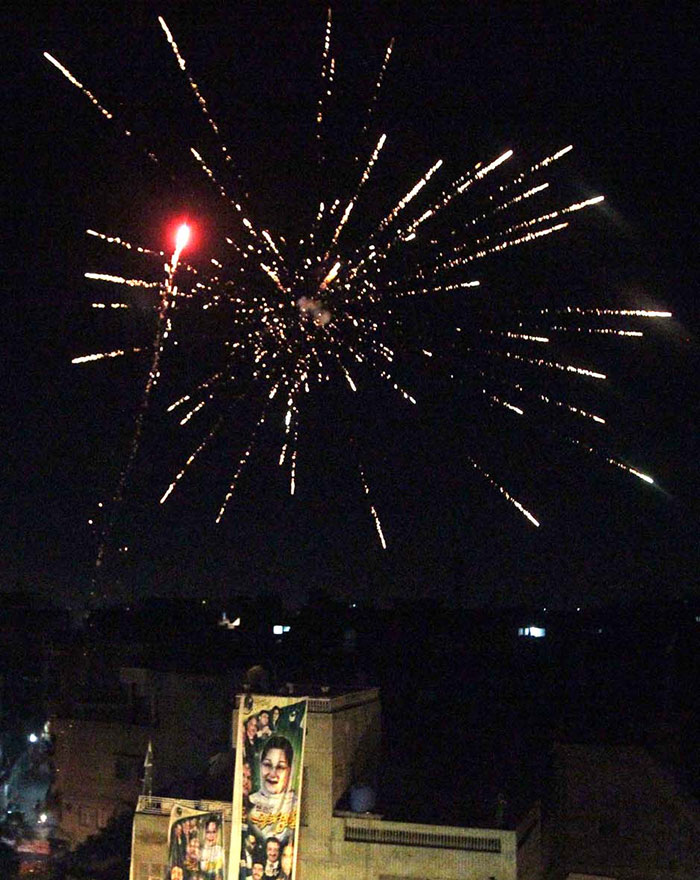 Following the PML-N's victory, party workers celebrated in the constituency and at the party's headquarters Model Town.
"All the powers which had surrounded Nawaz Sharif were defeated today," claimed a jubilant Maryam.
However, PTI's Dr. Yasmin Rashid said she would approach the court against the Election Commission of Pakistan for registering 29,000 bogus votes in the constituency.  
The by-election, which began at 8am and largely remained without incident, was seen as a major test for the ruling PML-N after Sharif's disqualification by the Supreme Court on July 28 in the Panama Papers case.
PML-N fielded Kulsoom Nawaz for the contest against Dr. Yasmin Rashid of PTI and Faisal Mir of Pakistan Peoples Party (PPP), among others.
All polling stations in the constituency were declared sensitive, with police, rangers and army personnel providing security. 
NA-120 RESULTS:
END OF LIVE UPDATES: 
---
2350: Unofficial and unverified results show Kulsoom Nawaz with 61,254 votes winning NA-120 by election. Dr Yasmin Rashid finishes second with 47,066 votes.  
2320: PTI chairman Imran Khan applauds the courage and determination with which Dr Yasmin Rashid fought the NA-120 election. Khan on Twitter thanked all PTI workers, especially women who worked tiresely during the election campaign.

2245: Maryam Nawaz congratulates party workers during an address in Model Town and says people have dismissed conspiracies against Nawaz Sharif. 

2230: Punjab Chief Minister Shehbaz Sharif congratulates PML-N workers and Kulsoom Nawaz on winning NA-120. 

2150: PTI's Dr. Yasmin Rashid thanked her supporters and the people of NA-120 for coming out to vote and said the future course of action would be announced in a press conference on Monday.

"We have reservations against the Election Commission and will approach the court against them," Rashid emphasized.

---
2140: Unofficial and unverified results from 196 polling stations have been received
---
2040: Unofficial and unverified results from more than 140 polling stations have been received
---
1940: Former Prime Minister Nawaz Sharif says he has received complaints from the NA-120 constituency and alleged that some voters went missing from the constituency in the run-up to the by-polls. 

1830: Party workers and supporters of PML-N and PTI are taking out processions in different areas of the constituency

---
1800: Unofficial and unverified results of NA-120 by-polls have started to come out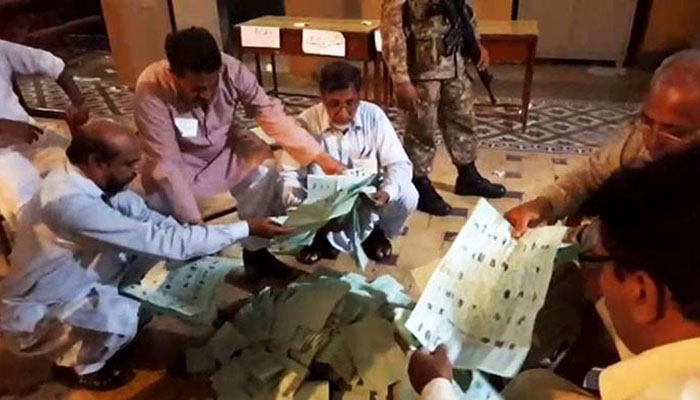 ---
1715: Geo News correspondents report that several people are still waiting in queue outside the polling stations
---
1710: PTI opposes extension in polling time. Ejaz Chaudhry says demand for extension in voting time is unnecessary as the time was till 5 pm as per ECP's schedule.  

---
1705: Railways Minister Khawaja Saad Rafique demands extension in polling time, claims a number of PML-N voters present outside polling stations are not being let in. 

---
1700: Polling concludes in NA-120; counting of votes underway in 220 polling stations across the constituency. 
---
1600: Foreign Minister Khawaja Asif, after meeting Nawaz Sharif in London, says they are reviewing reports of rigging. 

---
1545: Traffic jams reported in various areas of the constituency. 

---
1540: ECP's additional DG says polling time will not be extended and the polling will cease at 5pm per schedule.
---
1520: PTI leader Jahangir Tareen visits the constituency, expresses satisfaction with polling arrangements. 

1455: Scuffle between PML-N workers and police near a polling station close to Bilal Gunj-Bund Road junction. Party workers were attempting to go into the polling station, saying they had 'permission' but the police did not allow it, reported Geo News. 
1430: Rangers, police control situation after PTI and PML-N workers clash outside Fatima Jinnah Medical College polling station. Several people have been arrested by police, Geo News reported.
---
1410: Media personnel having ECP accreditation card are visiting polling stations. No restrictions imposed by army, according to the ISPR. 

1350: Tussle between police and PTI workers reported at Gaoun Shala polling station after PTI candidate Yasmin Rashid's visit.  

---
1330: Polling process continues peacefully, amid varying turnout, across the constituency. 
---
1300: PTI candidate Yasmin Rashid says 29,000 votes cannot be verified and that the list of voters shared with the party is incomplete.

---
1230: Secretary ECP calls Punjab IG, asks elected representatives to be barred from entering polling stations.

---
1145: PTI leader Firdous Awan speaks to Geo News, says ECP was unsuccessful in stopping pre-poll rigging.
1110: A boy riding a motorcycle is reported injured after being struck by a PML-N supporter's vehicle in front of Fatima Jinnah Medical College.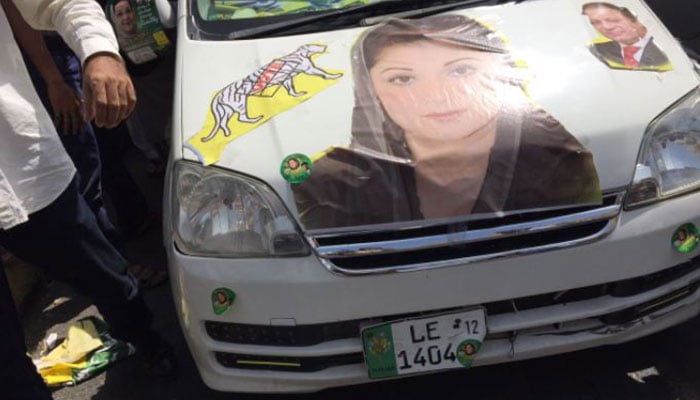 1050: PTI's Chaudhry Sarwar, speaking to the media, says they have not been provided the complete voter lists. 
---
1030: Punjab minister Khawaja Imran Nazir has filed a complaint with the returning officer regarding an hour's delay in polling in some areas. 
---
1000: Lines start forming in front of some polling stations after the lower turnout witnessed early morning when polling commenced. 
---
0945: Supporters of Milli Muslim League along with the new party's candidate, Sheikh Yaqoob, at Cooper Road. Yaqoob is contesting as an independent candidate as the party is not yet registered with the ECP.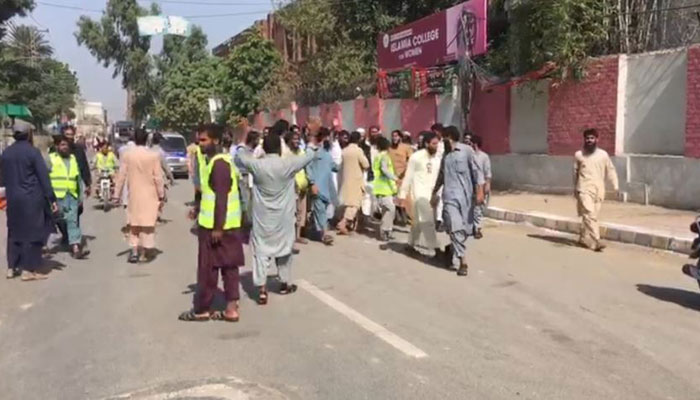 0925: Police stop PML-N and PTI workers from chanting slogans against one another at Cooper Road polling station. 

---
0910: PTI candidate Dr Yasmin Rashid asks the police to facilitate, rather than obstruct, the voting process. 

---
0900: The ECP has placed 100 biometric voting machines at 39 polling stations in the constituency.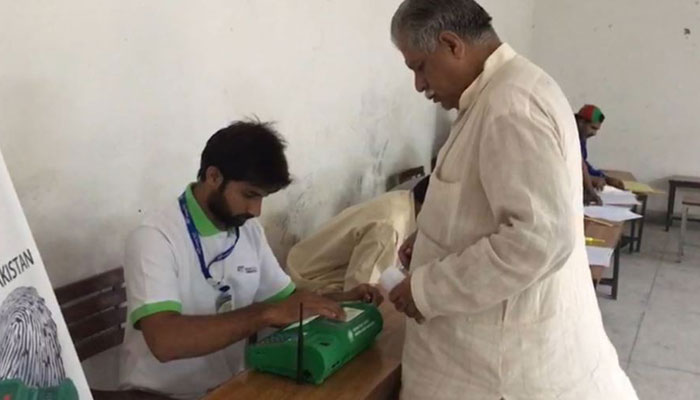 ---
0845: Punjab Food Minister Bilal Yasin scolds policemen at a polling station for 'unnecessarily' creating issues with voters' documents, Geo News reported. 
---
0818: PPP candidate Faisal Mir, talking to Geo News, said by evening people will see the biggest 'upset' in the country's political history.

---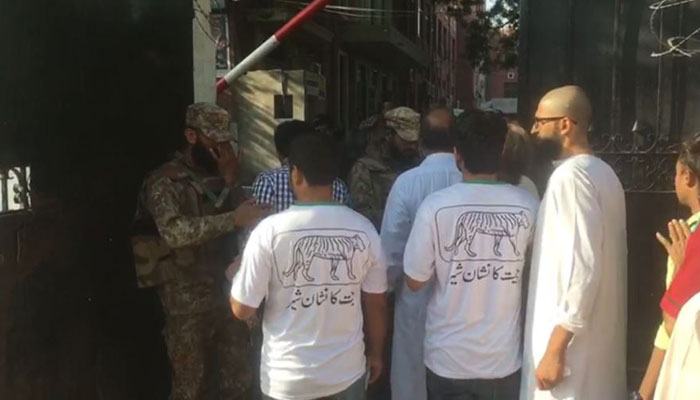 0800: Polling time begins at 220 polling stations across NA-120. A total of 324,786 registered voters can exercise their right to cast the ballot.