ADELAIDE: England´s Barmy Army of cricket fans had a little bit of local help this week in Adelaide as they tried, fruitlessly as it turned out in the end, to cheer their team to victory in the second Ashes test.
The rowdy but good-humoured camp followers have become a fixture on all England cricket tours over the last couple of decades but the tour of Australia is the one that attracts the biggest numbers.
When a regular member of the Army band had to return to Britain for personal reasons, though, the call went out for a trumpet or saxophone player to replace him.
Dave Zanchetta, as Australian as you like and from the nearby town of Port Elliott, answered the call and it was his saxophone that accompanied the songs of the travelling horde massed in the seating under the Adelaide Oval scoreboard.
Zanchetta told Reuters he had been touched by the way the fans had marked the third anniversary of the death of Australian batsman Phillip Hughes at the first test in Brisbane last week, when they chanted "There´s only one Phillip Hughes!".

"They´re a great bunch of guys and it´s been fantastic, because cricket means so much to the guys," Zanchetta said in a break from his playing after five days as an honorary Brit.
"I was touched by their tribute to Phillip Hughes so it´s been an opportunity to thank them in my own special way."
The atmosphere on Tuesday night was electric as the fans, their throats loosened by plenty of fluid intake, drowned out the subdued home support with their singing and cheeky chants.
Their peak moment came with a light-hearted taunting of Australian captain Steve Smith for bungling a couple of video review decisions and leaving his team without any for the final day.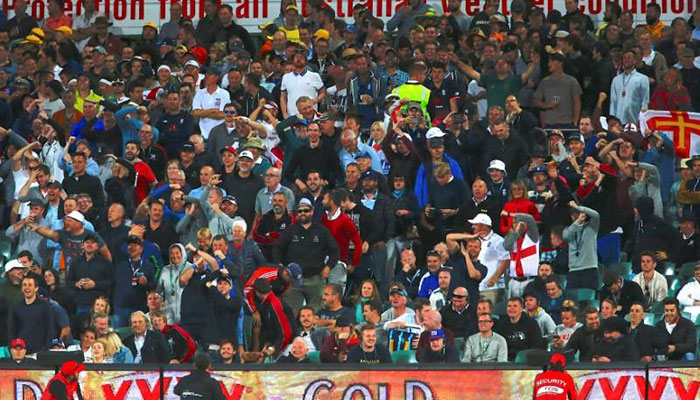 Zanchetta was not the only temporary member of the Army this week with three brothers from the Surrey town of Guildford also making a hit-and-run trip Down Under for the Adelaide test.

"We´re here in memory of our late father who died three years ago," said Eddy Tipping as he soaked up the sunshine on the first cloud-free day of the test, wearing a "DadAdelaide Ashes 2017" shirt.
"He was desperate to come to Adelaide and never made it. This is my first time here and I love it, though it could have been a bit warmer earlier in the week."
Things were more subdued among the travelling fans on Wednesday afternoon after England lost two quick wickets on their way to a 120-run defeat.
"The General" David Peacock, co-founder of an army he claims is 8,000 strong, remained upbeat as England slid towards defeat, at least taking heart from the team´s fighting performance in the second innings.
"We´ll head to Perth for the third test in great spirits," he said.
"Before that, the wine region beckons for many. It´s not just about cricket."