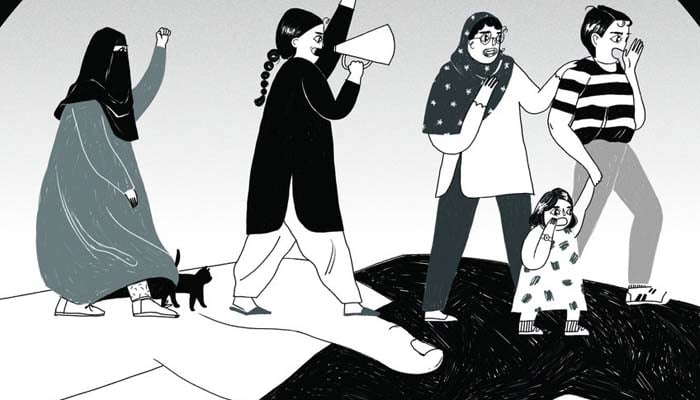 Hundreds of women are set to take to the streets of Pakistan to speak against economic, reproductive and environmental injustice.
The Aurat March, a rally for a call for collective action, is scheduled to commence from Frere Hall, Karachi at 4:00pm and from Hamdard Hall, Lyton Road in Lahore at 3:00pm on International Women's Day (March 8).
"The Aurat March isn't organised by a single group or organisation, and is being organised and led by a collective of women from diverse classes, professions, ethnicities and different sections of society," the invite read.
Referring to themselves as 'Hum Aurtein', the invite clarified, "The march is not funded by any political party, government organisation, NGO or group and is an event funded by small contributions of individuals."
Men are also welcome to attend the march but only if they are accompanied by women.
The demands identified are: an end to violence; workers' rights; reproductive rights; and environmental justice and access to clean water, clean air and enjoyment of public lands.
The march has been inspired and fueled by the momentum of women movements and struggles worldwide.
"We wish to organise a march that will highlight a diverse range of issues to express solidarity with all women about the connected nature of our struggles from #MeToo to the Women's March in various countries," a press release statedd.
From sexual harassment cases erupting in our cities; to voices of outrage speaking against child abuse, we see this march as a series of responses from women who are tired of the injustices we are subjected to, it added.
Elaborating on their aim, the press release further said, "We envision a world in which women from all groups, ethnicities, religious communities, economic backgrounds, working class women; displaced and refugee women; differently abled women; transgender women and persons belonging to other gender identities; are free to exercise autonomy over their lives, and to build just and peaceful communities."
Several, including celebrities, have also taken to social media to support the march.