KARACHI: Sabika Sheikh, the Pakistani teenage exchange student who was shot dead in the Santa Fe, Texas massacre Friday evening, was "a very obedient child", her father, Abdul Aziz, said as he tried to hold back tears while speaking to the media earlier today.

A resident of Karachi's Gulshan-e-Iqbal locality, 17-year-old Sabika — killed during the Santa Fe high school shooting — was the eldest of three sisters. She had completed her secondary education at Karachi Public School.

Sabika was studying in the US, under the Kennedy-Lugar Youth Exchange and Study (YES) programme since August 21, 2017, and was due to return home next month.
"It is still so very hard to believe that [Sabika is dead]," her father told Geo News in front of their residence as relatives started to gather for condolences. "Sabika was going to come home on June 9."
Sabika's scheduled return was to coincide with Eid-ul-Fitr.
The bereaved family, who heard about the shooting at Santa Fe high school sometime after iftar on Friday, was unable to get through to her mobile phone or in touch with any of her colleagues.
At 11 PM Friday night, however, Aisha Farooqui, the consul-general in Houston, confirmed to the family that Sabika had died alongside nine others during the tragic school shooting.
"She [was loved] and she loved everyone. She was all ready to return home," said Sabika's brother.

Aizaz Ahmad Chaudhry, Pakistan's ambassador to the US, expressed heartfelt condolences for the victims of the tragic incident and said his thoughts and prayers were with Sabika's family and friends. 

Speaking to Geo News in Washington, DC, Ambassador Chaudhry expressed regret and sadness at the tragedy and said the embassy was cooperating with Sabika's family at this time of grief.
Following Chaudhry's assurance that arrangements were being made to send her body to Pakistan at the earliest, the Pakistani Consulate in Houston confirmed that it had received the body on Sunday.
"The body has been shifted to a cold-storage in Houston," said Consul-General Farooqui. "After required legal procedures, we will send the body to Pakistan on Monday. We wish to send it as soon as possible."

Farooqui added that funeral prayers for the deceased will be offered tomorrow in Houston. 
'Now she is gone forever'
George Lapadat, who says Sabika was "one of my friends", posted a photo on social media to honour her.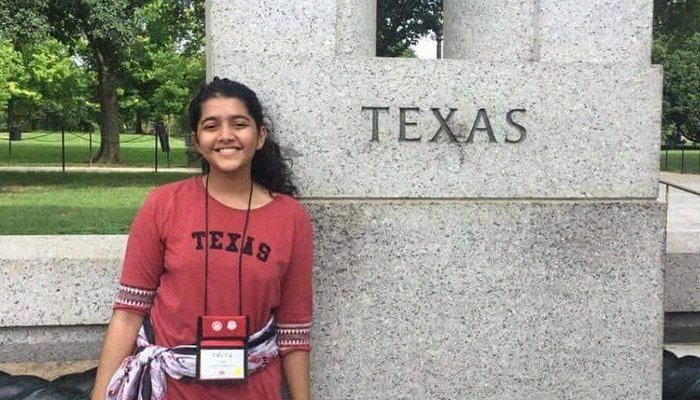 "She was young, vibrant, happy and super-excited to go back to her country. She was going to return in a few days. She has done an amazing job being an ambassador of her country here. She has volunteered in her community, she was involved in a lot of activities and she created a lot of lifelong friendships," he wrote.
"When she left for this trip, she was supposed to be gone for 10 months... but now she is gone forever. And if this is not enough to prove that something is wrong and something needs to change, I don't know what else would be," he added.
According to an April school announcement quoted by an international media outlet, Sabika "was an honour roll student".

Another acquaintance wrote: "She was representing, living an experience, a new beginning and a new life only a few could experience. She only had 18 days left until reuniting with her family and friends back home."
Yet another friend expressed shock at the news, saying she "was going to meet her [Sabika] in DC".
A fellow YES programme student posted: "Just about the beginning of Ramadan and a few weeks left until we all see our families we receive news about one of our very own Sabika Sheikh, an exchange student from Pakistan who died today morning in the Santa Fe, Texas school shooting."
A woman, who says her family "hosts scholarship students" said she was very saddened at the news of Sabika's death.
"This girl came to our country to learn more about our culture and our educational system to be able to further the opportunities in her nation, only to lose her life here in a senseless act of violence. Her family who hasn't seen her for probably 10 months now, had to receive this horrific news from halfway across the world, barely knowing what was going on."
"This is just sickening. I am proud to be American, but I am broken at how often this type of violence happens."