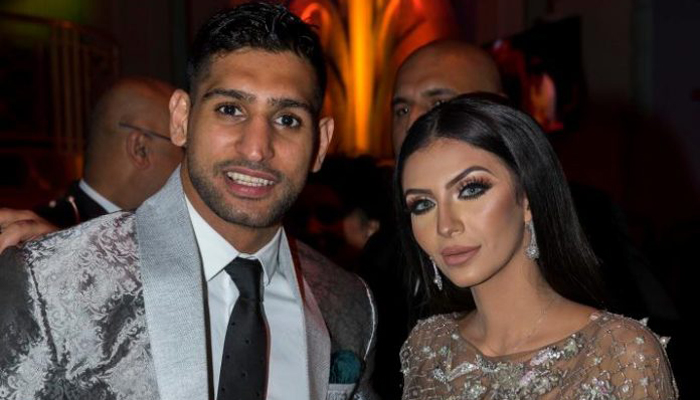 Boxer Amir Khan has denied a recent report alleging that he cheated on his wife, Faryal Makhdoom, with a 22-year-old days after the birth of his second child.
A report published in The Sun quoted beautician Sophia Hammani claiming that she met Amir at a club in London earlier this month and he invited her to his hotel for a night.
Sophia, who claimed that Amir cheated on his wife just 17 days after she gave birth to their second daughter, thought the boxer was divorced and only realised that he was still with his wife after he posted a photo with his family on Instagram, according to the report. "That must be every wife's nightmare. That poor woman. She [Faryal] needs to bin him off once and for all. Surely this is unforgivable?" she said.
However, Amir took to Twitter and denied Sophia's claims.
"What total nonsense! She was wanting a picture but was told to leave by security due to her being too drunk. IMO that's the reason she sold a story. Quite strange at the fact that there is no photos of us together. Supposedly, I gave her £20, is that all she's worth?" he said while sharing a picture of the article.
Sophia, who described her meeting with Amir in the report, said, "…He makes me sick. I cannot believe this man."

This is not the first time Amir has been accused of cheating on his wife.
The couple had a public spat in August last year, with Amir announcing their separation on Twitter while falsely accusing his wife of cheating on him with heavyweight star Anthony Joshua.
Shortly after the public spat with his wife, the boxer was said to be spending time with a 23-year old model. The feud was short-lived, though, and they reunited in time for Amir's 'I'm A Celeb' stint.
He has been accused of several other such affairs in the past.
Amir and Faryal have been married for five years and have two children together.