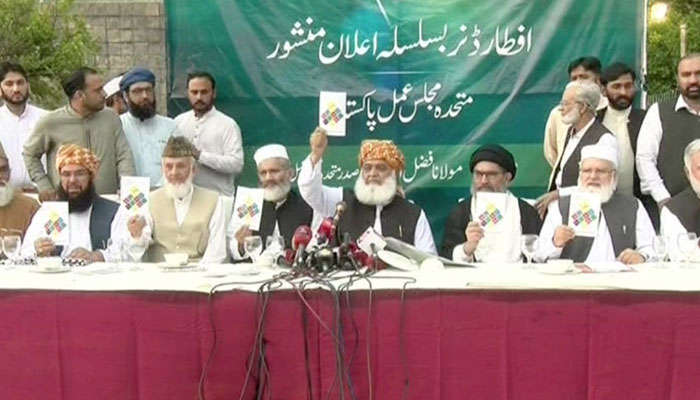 KARACHI: The revived religious political parties' alliance Muttahida Majlis-e-Amal (MMA) on Tuesday announced its 12-point manifesto for general elections 2018.

Addressing a press conference, the MMA leader Maulana Fazlur Rehman said that the alliance's manifesto includes implementation of Nizam-e-Mustafa (PBUH), safeguarding all Islamic provisions in the constitution, empowered parliament, ensuring free and fair judiciary and devolution of power.
"A dignified and independent foreign policy will be ensured in the country if the people of Pakistan choose MMA in coming polls," Rehman added, "new provinces should not be made on ethnic and linguistic basis but the alliance won't oppose any movement calling for new provinces."
The MMA leader said that education, provision of employment and abolition of unnecessary direct and indirect taxes, and subsidy on necessity items have been prioritised by the alliance.
Rehman said that the religious alliance would ensure construction of new dams, effective mechanism for generation and distribution of power and will make a concrete strategy to counter India's aggression over water supply to Pakistan.
"We stand for giving employment opportunities to the native population in CPEC projects and for farmer-friendly policies," he said.
Responding to a question over the ongoing case in the Supreme Court on his security protocol, Rehman challenged Chief Justice of Pakistan to swap his security protocol with him.
"My differences with Imran Khan are ideological, not personal," Rehman said.