Kulsoom Nawaz, the wife of former prime minister Nawaz Sharif, was born in 1950. She was the granddaughter of the world-renowned wrestler Ghulam Muhammad, known locally as 'Gaama Pahelwan.'

Nawaz received her early education from Lahore's Madrasa-Tul-Banat and later enrolled at the Lady Griffin High School. For her undergraduate, she attended the Former Christian College in Lahore, and then completed a masters at the Punjab University. She was still studying when she married Nawaz Sharif, the son of a businessman, in 1971.
Her husband entered politics in the 1980s and went on to launch his own party, the Pakistan Muslim League-Nawaz. Through its platform, he was elected the prime minister of Pakistan three times and Kulsoom Nawaz had the honour of serving as the first lady thrice.
But it wasn't until 1999, when the former first lady, and mother of four, became politically active for the release of her husband imprisoned by Gen. Pervez Musharraf. She rallied support for Sharif when politicians from the PML-N were being arrested in pre-dawn raids. In June 2000, she was appointed the interim president of the party—a position that she held for two years. 
Thereafter, she was thrust into the political arena when Musharraf placed her under house arrest. Undeterred, she attempted to drive through the police cordon placed around her home in Lahore, with a dozen or so political workers by her side. Attempts to remove her from the car were futile. One of the most iconic images of that time emerged as a crane tried to lift her car after she locked its doors.
In September 2017, she won the by-election from NA-120 Lahore. Begum Nawaz was under treatment at this time and her campaign was run by Maryam Nawaz. 

Last June, she was diagnosed with lymphoma (throat) cancer and was sent to London for treatment at the Harley Street Clinic. As early as last night, she was placed on life support after her health deteriorated.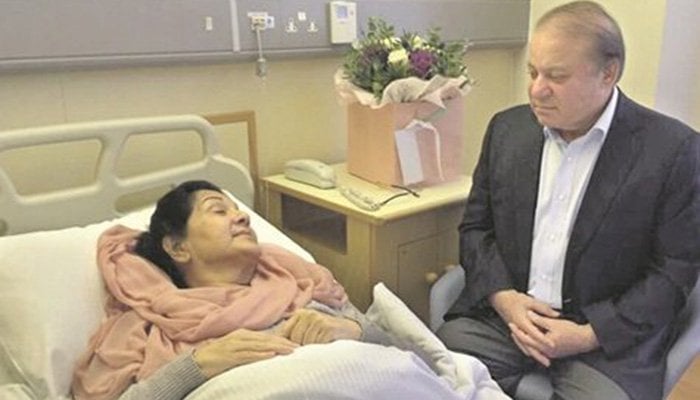 Begum Kulsoom is survived by her husband and four children Maryam, Asma, Hassan and Hussain.