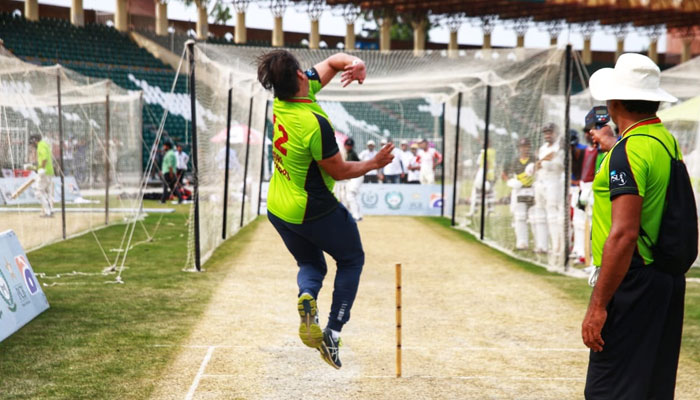 LAHORE: The Player Development Program by Pakistan Super League franchise Lahore Qalandars on Tuesday reached Lahore with another batch of thousands aspiring Qalandars appearing in open trials at Qadaffi Stadium throughout the day.
According to estimation, more than 10,000 aspiring Qalandars came to the stadium to express themselves, and to motivate them two legends from Pakistan Cricket - Shoaib Akhtar and Inzamam ul Haq were also present at the stadium.
The duo didn't only witness the trials but also spent time on nets with youngsters who wanted to learn from the experiences of two of the greatest servants of Pakistan Cricket.
"It is so overwhelming to see a large turnout at Lahore," said speedster Shoaib Akhtar on the sidelines of the opening day of trials.
"I am eager to spot strong fast bowlers from these trials and I am very hopeful that I will be able to find such bowlers who can bowl aggressively like me," he said while adding that the sight of enthusiast aspiring Qalandars reminded him of his initial days as a cricketer when he used to stand in queue like these boys.
Shoaib also spent time with a 7-year-old boy, Zaryan Ali Khan, who impressed the speedster with his all-around performance at the nets. Akhtar advised the kid to carry on with his hard-work and grow as a top performer.
Meanwhile, the coaching panel of Lahore Qalandars, headed by Aaqib Javed has shortlisted around 300 players for the second round of trials which will be held on Wednesday.
"Lahore has always produced extraordinary talent and I am sure that we will find some more extraordinary talent from these trials," said Aaqib Javed.
Along with final trials for Lahore Qalandars development squad, the trials for Pardesi Qalandars will also be held in Lahore on Wednesday in which around 40 Pakistani expats living in different part of world will take part.
Following the conclusion of trials, a tournament involving eight teams will commence in Kashmir, Muzaffarabad, from 4th of September. The second phase of the tournament will be played in Lahore from 9th September.