KARACHI: Thailand's trio of Jakraphan Premsirigorn, Namchok Tantipokhakul and Suradit Yongcharoenchai showed off the best of their golf skills on Friday to grab a shared lead by the three after day two of Asian Tour CNS Open Golf Championship.
Jakraphan Premsirigorn and Suradit Yongcharoenchai, who played 3 under on day one, both carded four under-par 68 to join Namchok Tantipokhakul on top who played 2 under on day two to extend his lead to 5 under.
Pakistan's young golfer Ahmed Baig, who was leading along with Namchok Tantipokhakul on day one, couldn't keep his flow with putting on day two as he played a two-over-par 74 and slipped to a tied 7th position on the leaderboard.
Ahmed played bogey on hole number 3, 4 and 13, the worst for him was hole 17th where he played two extra shots.
Pawin Ingkhapradit of Thailand and Pakistan's Mohammad Munir are in tied-fourth after carding 70 and 69, respectively.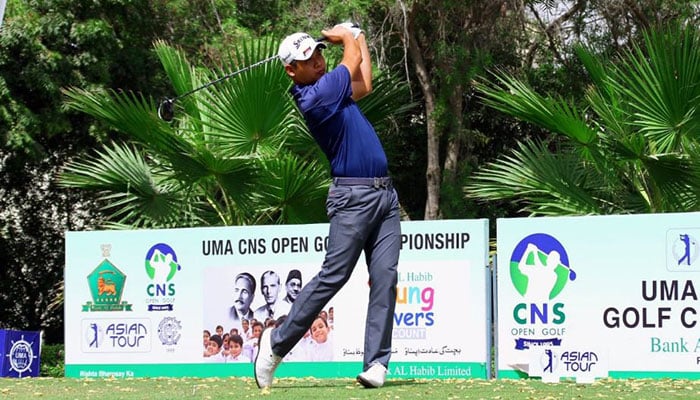 Munir, who scored three-under-par-69 on day one, scored another three under on day two to climb on the leaderboard.
He played 7 birdies and could have extended his lead but a double bogey on hole 15th and bogeys on hole 6th and 9th slowed down his progress.
Tirawat Kawesiribandit, also from Thailand, is a lone sixth after ending his day with a 69.
Eight players, including Singapore's Mitchell Slorach and Koh Deng Shan, as well as Bangladesh's Siddikur Rahman, are in tied-eight.
Danny Masrin of Indonesia carded a flawless 66, the lowest score of the morning session. He was able to sustain his forward momentum throughout the entire day after a challenging par save at the start of his round on 10th.
The cut line was set at four-over-par. 74 players will progress to the weekend rounds.
Pakistan's Mohammad Munir, Mohammad Shabbir, Ahmed Baig, Dilshad Ali, Safdar Khan, Matloob Ahmed, Mohammad Nadeem, Talib Hussain, Mohammad Alam, Jafal Hussain, Taimoor Khan, Shahid Javed, Amjad Yousuf, Wisal Khan, Waheed Baloch, Ahmed Saeed, Hamza Amin, Mohammad Zubair, Mohammad Nazir, Kamran Shafiq, Mohammad Khalid, Mohammad Tariq and Sajjad Khan are above cut off line after two rounds.