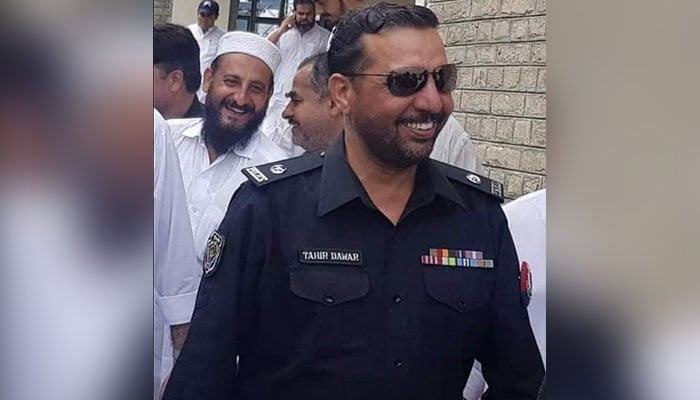 Superintendent of police (SP) Khyber Pakhtunkhwa Tahir Dawar was first reported missing from his Islamabad residence on October 26. According to reports, the police officer had arrived in Islamabad along with his driver earlier in the day. He was staying at his home in F/10 and went for a walk at approximately 8PM and never returned.

On November 13, pictures circulating on social media claimed to show the dead body of the Dawar found in Afghanistan's Nangarhar province. The federal government and police authorities said they had no confirmation regarding reports of Dawar being killed. "It is a matter of national security and someone's life, and cannot be discussed on an open forum," State Minister for Interior Shehryar Afridi responded when asked by reporters about the pictures circulating on social media.
November 14, the Afghan government confirmed the discovery of a body along with the service card of SP Tahir Dawar. A press release by Pakistan's Ministry of Foreign Affairs stated that the Afghan Ministry of Foreign Affairs informed the Pakistan Embassy in Kabul that locals had found the body in Dur Baba district of Nangarhar province a day earlier.
On November 15, Prime Minister Imran Khan tweeted about the murder of SP Tahir Dawar calling it a "shocking tragedy." The prime minister orders an immediate inquiry which would be overseen by Shehryar Afridi.
Following the prime minister's tweet, Minister of State for Interior Shehryar Afridi spoke on the floor of the Senate about SP Dawar's abduction and murder.

SP Dawar would receive death threats and his brother and sister-in-law had previously been martyred.

FIR of SP Dawar missing was registered on October 28.

Afghan government confirmed reports of his martyrdom on November 14.

The police officer was abducted from Islamabad and then taken to Mianwali from where he was taken to Bannu and then to Afghanistan.

During his address in Senate, Afridi said: "some people want to destabilise Pakistan." The minister promised to make an example out of those responsible for SP Dawar's murder. 
The police officer's body was handed over by Afghan officials to Pakistani officials at the Torkham border. Afghan officials had earlier refused to hand over the body, stating it had to be received by tribal representatives or Mohsin Dawar. The body was handed over to a jirga led by Mohsin Dawar. State Minister of Interior Shehryar Afridi and KP Information Minister Shaukat Yousafzai were also present. 

In a series of tweets, Director General Inter-Services Public Relations (DG ISPR) Major General said the brutal murder of SP Tahir Dawar in Afghanistan was high condemnable.
DG ISPR added SP Tahir Dawar's abduction, move to Afghanistan and follow up behaviour by Afghan authorities raised questions which indicated the involvement or resources more than that of a terrorist organisation in Afghanistan.