ISLAMABAD: Prime Minister Imran Khan on Tuesday announced that Pakistan would spearhead the International Convention on Preventing the Defamation of Religions.

The prime minister was addressing a two-day International Rahmatul-lil-Alameen (Peace Be Upon Him) Conference at the Jinnah Convention Centre in Islamabad on Tuesday.
"I have decided to make Ahmed Bilal Soofi who is well versed in international law my special envoy. He will be responsible for having this convention signed by different countries," Prime Minister Khan said.
He added that the convention would prevent people using freedom of speech as a cover for hurting the religious sentiments of Muslims around the world. "Pakistan will spearhead the signing of this convention and make using freedom of speech to commit blasphemy a crime."
The prime minister spoke of how every few years some western countries would insult Prophet Muhammad (Peace Be Upon Him) which would lead to Muslims getting angry and protesting. According to the prime minister, this would only strengthen the enemies of Islam in the west and give them an opportunity for propaganda.
Prime Minister Khan highlighted how his government had been successful in raising the issue of blasphemy on international forums.
"Recently there was a blasphemy caricature issue in Holland. We spoke to the foreign minister and ambassador and for the first time, they took action against the blasphemous caricatures. We also raised this issue in the OIC and said all Muslim countries should tell the West about the love we have for Prophet Muhammad (Peace Be Upon Him). This issue was also raised in the United Nations for the first time by our foreign minister."
The prime minister in his address emphasised the importance of learning about Prophet Muhammad's (Peace Be Upon Him) life and teachings in order to become better human beings.
"The Holy Prophet Muhammad (Peace Be Upon Him) came as a mercy to the world. Prophet's (Peace Be Upon Him) achievements are incomparable," the premier noted.
Recalling his younger days, PM Imran told the audience that once his belief in God strengthened and his understanding of Islam deepened, he realised the purpose of life was to serve humanity and live for others, rather than focusing on oneself.
"It is our country's misfortune that despite having been created in the name of Islam, some [elements] have [hijacked] the religion of mercy. They claim to be the safe-keepers of our religion, but their acts hurt us, hurt our children," the premier said.
Prime Minister Khan said it was important for our universities to highlight the life of Prophet Muhammad (Peace Be Upon Him) and for children to learn from his life.
"Our children read books on Steve Jobs and Bill Gates on how they became successful. They should be reading books on Prophet Muhammad (Peace Be Upon Him) who changed the world."
"Our children should know what Prophet Muhammad (Peace Be Upon Him) did which made people gain prominence."
"Children should be taught about [the importance of] character, about how to become better human beings," he continued.
The prime minister stressed that for a nation to change its destiny its people had to show the will to do so.
"Pakistan will become a great nation one day, but it will only become so when we change ourselves…We will change our destiny by changing our character. The ideal character for us is Prophet Muhammad (Peace Be Upon Him)." 
PM Imran informed that his government is working on establishing a Seerat chair in three major universities, and stressed upon the need for scholars to research on the life and teachings of Holy Prophet Muhammad (Peace Be Upon Him).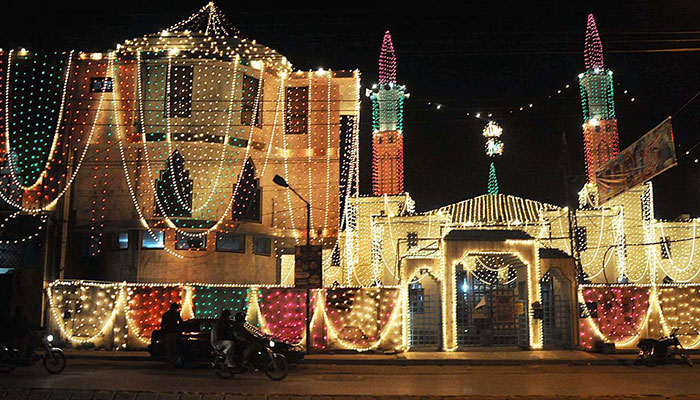 The conference is aimed at highlighting the soft image of Islam and the teachings of the Holy Prophet Muhammad (Peace Be Upon Him) and will reward the authors of the books and research papers written on the life of the Holy Prophet Muhammad (Peace Be Upon Him).
Over 2,500 people from all walks of life, including parliamentarians, ambassadors, ulema, scholars, students of religious seminaries, universities, deans of universities and representatives of chambers of commerce and industry are attending the moot.
Religious scholars from Muslim countries including Iraq, Iran and Saudi Arabia are attending the conference. 
Prizes will be awarded to 21 authors for writing books on Seerat and Na'at and to 32 scholars for writing research papers on Seerat. A total of 53 authors will be awarded prizes in nine categories of Seerat and Naat.

President Dr Arif Alvi will preside over the closing session of the conference.

This year, a total of 65 books and 81 Seerat research papers were received for participation in the competition.