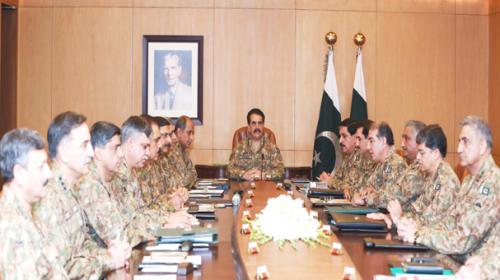 RAWALPINDI: The 181st Corps Commander's Conference was held at General Headquarters (GHQ) today (Friday). Chief of Army Staff (COAS) General Raheel Sharif presided over the conference.
In a press release the ISPR stated that participants dwelt on professional matters, operational preparedness of the army and internal and external security situation of the country. With regard to the Yemen / Middle East conflict, the forum deliberated at length on the gravity of the situation and stressed that continuation of the conflict will have serious implications for regional security.
Addressing the forum, COAS expressed his complete satisfaction over the major gains recently achieved in ongoing Operation Zarb-e-Azb in Khyber Agency. He directed the commanders to maintain focus on achieving the end objective of total elimination of terrorism from across the country by coordinating with Law Enforcement and other government agencies.
"Intelligence based operations must be further intensified to unearth terrorist sleeper cells, and apprehend hiding terrorists and their abettors from urban centers as well", COAS said.
Appreciating the effects of intelligence based operations and improving security situation, COAS emphasised the need to concentrate on combating extremism from the society by re-energizing the National Action Plan in true letter and spirit and achieving discernible results.
COAS also expressed his satisfaction over initiation of dignified return of Temporarily Displaced Persons to FATA which was reflective of a successful Operation Zarb-e-Azb strategy. He directed all concerned to make the return smooth and enduing.
"The eventual purpose of the operations is to ensure stability leading to normalcy and prosperity in accordance with the aspirations of the people of FATA", COAS remarked.