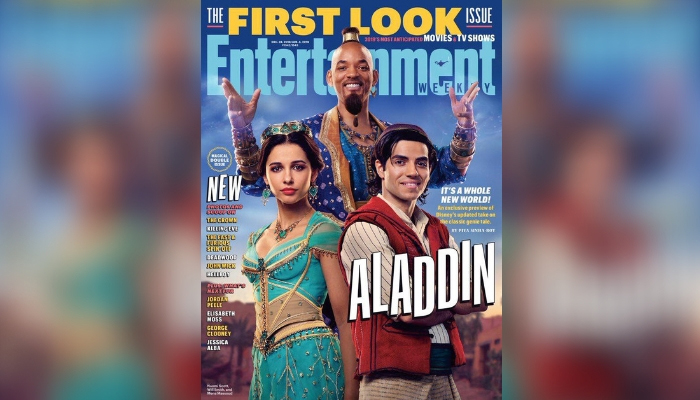 Entertainment Weekly has released the first look of Disney's live-action adaptation of Aladdin in their latest issue. The cover features Will Smith as the Genie and newbies Mena Massoud as Aladdin and Naomi Scott as Princess Jasmine.
The remake, shot in London and on location in Jordan, is directed by Guy Ritchie. Disney had announced that it was planning to release a live-action adaptation next May, telling the ancient tale of the penniless market boy who with a little help from a certain genie in a lamp, marries the headstrong Princess Jasmine.
However, the new cover has not exactly gone down well with fans of the original 1992 classic, with Smith's portrayal of Genie (originally voiced by Robin Williams) receiving the brunt of criticism for not being blue.
Their disapproval was so intense that Smith even felt compelled to respond to the backlash on Instagram, explaining that Genie would be blue in the film. The 50-year-old actor said that his appearance on the EW cover was Genie's form when disguised as a human.
While speaking to EW about his portrayal of the classic blue character, Smith said that he was becoming the character of Genie in his own unique way, while trying to pay respect to Williams.
"I started to feel confident that I could deliver something that was an homage to Robin Williams but was musically different. Just the flavor of the character would be different enough and unique enough that it would be in a different lane, versus trying to compete," Smith said.
The Men in Black actor added that said some of his inspiration for Genie came from his roles in the nineties, including Independence Day, Bad Boys, and The Fresh Prince of Bel-Air.
"I think it'll stand out as unique even in the Disney world. There hasn't been a lot of that hip-hop flavor in Disney history," he added.
Disney's Aladdin remake will hit theaters in May 2019.