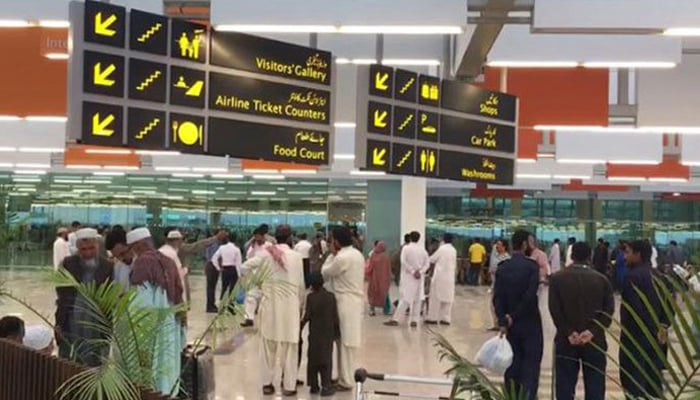 ISLAMABAD: The Civil Aviation Authority (CAA) temporarily restored Pakistani airspace for commercial aviation on Thursday, allowing some flights to depart as air traffic over the country remained suspended amid escalating military tensions with neighbouring India. 
At least three commercial flights departed from Pakistan on Thursday, as the country's airspace remained closed for a second day. 
The three flights included Emirates flight number EK637 from Peshawar to Dubai, Air Arabia G9825 from Peshawar to Ras Al Khaimah, and Qatar Airways #QR601 from Peshawar to Doha. 
Earlier, CAA had said that all flight operations across the country had been suspended till 5am on Friday. 
But the latest Notice to Airmen (NOTAM) issued by the authority said the airspace would remained closed until 1 PM Pakistan Standard Time on Friday. 
PIA flights to Saudi Arabia, UAE to resume on 'priority basis'

Pakistan International Airlines (PIA) said flight operations will resume temporarily on a priority basis for flights to Saudi Arabia and UAE.

In a post on Twitter, the national flag carrier said, "PIA flights to Saudi Arabia and United Arab Emirates are being resumed on a temporary basis after the Pakistan airspace opened temporarily."
"PK-731, headed to Jeddah, will take off from Karachi at 6pm, PK-213 (Karachi-Dubai) will take off at 10pm, PK-747 (Karachi-Medina) will leave at 6pm and PK-245 (Karachi-Dammam) will fly at 11pm," it further said.
Passengers are requested to contact our call centre before the departure from the airport, PIA further said.

Several airlines, including Emirates, Air Canada and Qatar Airways, have suspended flights to Pakistan owing to closure of its airspace.

Etihad, flydubai, Gulf Air, SriLankan Airlines and Air Canada also suspended services to the country and flight tracking portals showed Singapore Airlines, British Airways and others were forced to reroute flights.
On Wednesday evening, the Civil Aviation Authority (CAA) had said that flight operations in Pakistan had been partially restored after being completely suspended. However, on Thursday all flight operations remained fully suspended.
Director General Inter-Services Public Relations Major General Asif Ghafoor in a media briefing on Wednesday said the decision to close the airspace had been taken due to the prevailing security situation.
Pakistan carried out air strikes and shot down two Indian military jets on Wednesday, a day after Indian warplanes "intruded" Pakistan airspace for the first time since a war in 1971, prompting leading powers to urge both of the nuclear-armed countries to show restraint.

Tension has been elevated since the Pulwama attack on February 14 in which over 40 Indian paramilitaries were killed in occupied Kashmir.

Tourists stranded as Thai Airways cancels flights over Pakistan
Thousands of holidaymakers were stranded in Bangkok on Thursday after Thai Airways cancelled all flights over Pakistan owing to closure of airspace.
Twenty-seven flights, the majority to and from European routes, have been cancelled, the Thai flag carrier said, with three passenger jets forced to return to Bangkok´s Suvarnabhumi airport on Thursday.

Thai Airways said nearly 5,000 passengers had been caught up in the cancellations.
"There are 4,000 from European flights and 700 to 800 from flights to Pakistan," a Thai Airways spokesperson said.
"We are waiting for permission to fly over other countries," she said, explaining Iran had rejected a request to fly over its airspace.
"Now we are contacting China," she added.