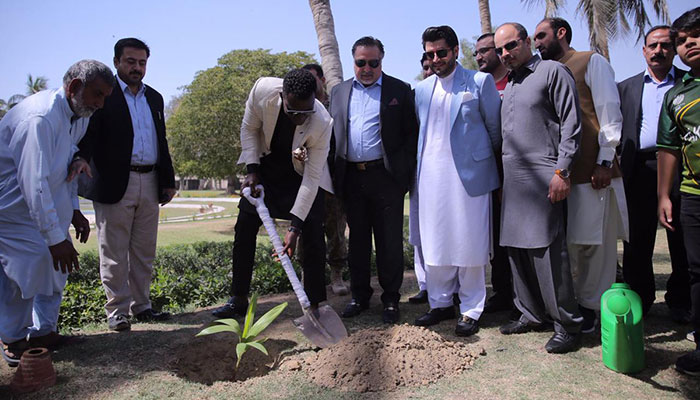 KARACHI: Fan-favourite Peshawar Zalmi captain Darren Sammy continues to win Pakistanis' hearts with his enthusiasm for the traditions and cultures of the cricket-mad country.
After visiting Quaid's Mausoleum last night dressed in shalwar kameez and holding the Pakistan flag, Sammy today took part in the Clean & Green drive aimed at planting 10 billion trees across the country.
"Chairman @JAfridi10 & Skipper @darensammy88 visited the Governor House Sindh for the Clean & Green campaign of 10 billion trees. Both of them planted a tree in the governor house and in their message urged everyone else to do the same as well," Peshawar Zalmi tweeted.
Talking to reporters on the occasion, Sammy said he was enjoying his time in Karachi exploring the local cultures and cuisines.

"I've been enjoying the culture from day one. I'm enjoying the experiences. I want to see the fans happy, that's why I play cricket," the West Indian cricketer said, adding that he found shalwar kameez really nice to wear and liked biryani.
The skipper also expressed hope that Peshawar Zalmi would win this PSL.