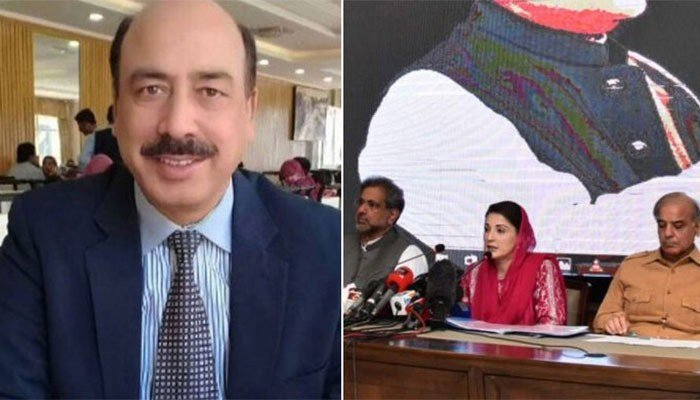 Accountability court judge Arshad Malik, who is currently embroiled in the so-called judge video scandal, penned a letter Friday to the Islamabad High Court (IHC) wherein he refuted Pakistan Muslim League-Nawaz (PML-N) Vice President Maryam Nawaz's claims and revealed other information related to the controversy.
In an affidavit submitted to the IHC, Malik denied the contents of the video — which purportedly showed him admitting to a lack of evidence against former prime minister Nawaz Sharif — and termed them edited, fabricated, and aimed to defame him.

In his letter, a copy of which is now available with Geo News, he wrote that he was "contacted by two acquaintances, Mahar Jilani and Nasir Janjua with whom I met.
"During this meeting Nasir Janjua claimed that it was on his specific and personal recommendation to an influential person in the then PML-N Government that I was appointed Judge, Accountability Court No. II, Islamabad," he wrote, adding that he "was not keen to this position".
He further said the Flagship and HME references were transferred for trial to his court and associates and supporters of Mian Nawaz Sharif approached him on a number of occasions "with demands, inducements and threats to acquit Mian Nawaz Sharif and the other accused."
Malik was told by Janjua that "unless a favourable verdict was given in favour of Mian Nawaz Sharif, it would be very damaging for me personally".
When the trials were at the arguments stage, he continued, Janjua and Jilani came to him, offering a bribe worth "Rs. 100 million in Euros for me immediately available out of which the Euro equivalent of Rs. 20 million was laying in his car parked outside".
"However, I declined the bribe offered to me," he claimed, adding that his refusal was followed by "a thinly veiled threat of physical harm and intimidation by Nasir Butt", who told him he was "willing to go to any extent to help Mian Sahib in the trials he was facing".
Judge Arshad Malik's affidavit