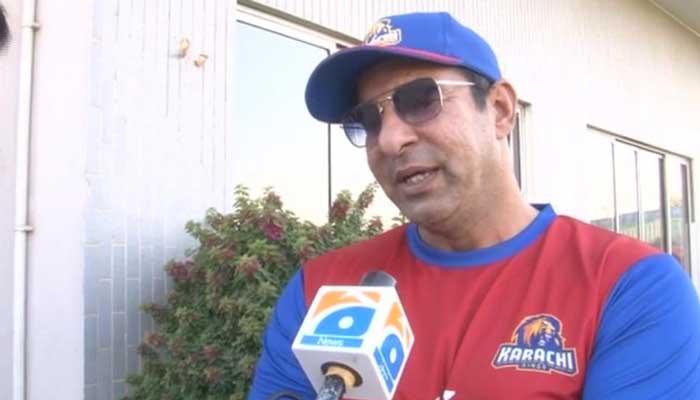 KARACHI: Former captain Wasim Akram wants Pakistanis to "make as much as noise as possible" when they go watch Pakistan Super League (PSL) matches.
The Sultan of Swing, while speaking to Geo News in Karachi, said he wants the cricket-starved people of Pakistan to go all out and enjoy the cricket.
"It is very important for Pakistan that all these matches are being played in the country," Akram said. "This is a special occasion for all those fans who were waiting to see top stars in their cities. Now, it is time for them to enjoy and express their love for the game."
He continued, "The PSL has improved Pakistan's image globally. It is one of the top leagues in the world. People rate Big Bash and PSL after the Indian Premier League (IPL), and with all [PSL] matches now happening in Pakistan, the status of PSL will improve further."
Read also: 350 artists to perform at PSL opening ceremony
"I am hoping for a full house in every match," Akram added.
When asked about his side's preparation, the 53-year-old said everyone comes to the league with a hope to win, and his side has the same thing in mind.
"But all the teams in the league look strong this time, so the one which is consistent and the one which knows how to make a comeback after a couple of bad games will end the league on top," he noted.
"We have players in the Karachi Kings squad who can turn the table single-handedly. Players like Alex Hales, Babar Azam, Chadwick Walton had a good season in the Bangladesh Premier League (BPL)," the former captain added.
Akram also mentioned emerging talent Arshad Iqbal, saying he was very impressed with Iqbal's skills and that the 19-year-old bowler can do wonders in the future.
Read also: PSL fever grips Pakistan's showbiz industry
He, however, expressed his displeasure on the non-supportive attitude shown to Umar Khan, an emerging bowling talent from Karachi Kings, despite a remarkable performance in the last season.
"We named him the 'Giant Killer' as he had taken wickets of all top players. It is surprising and disappointing to see that even after such a top performance in the PSL, he did not get a chance even in first-class cricket," Akram said.
"How are you going to grow a talented player if you are not giving him opportunities in first-class cricket," he asked. 
He suggested that the Pakistan Cricket Board must change, bringing in those who have "fresh ideas" and those "who can provide talent to the system".