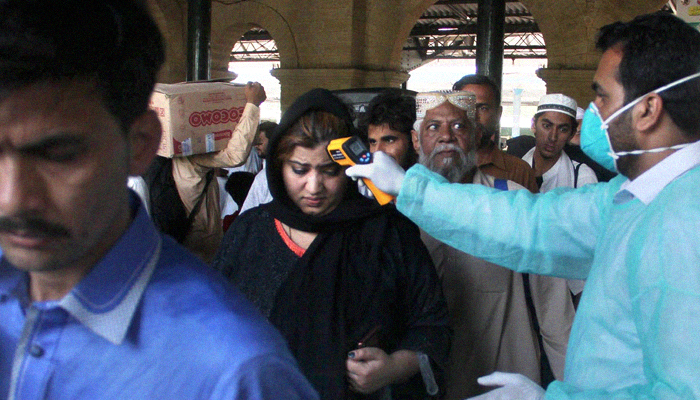 KARACHI: The spokesperson for Sindh's health minister said late Thursday the provincial government was aware of "a large number of people [that] have reached from Iran to Karachi" amid the coronavirus outbreak and that the pilgrims had been quarantined.

The virus has so far infected 245 people all over Sindh, including 66 in Karachi, while the aggregate number of confirmed cases in Pakistan have shot to 456.

"We already know about them and they all have been quarantined," said Meeran Yousuf, the provincial health minister's spokesperson, when asked on Twitter if a rumour circulating on social media platforms was true.
Earlier in the day, a local journalist had tweeted: "A large number of people have reached from Iran to Karachi, particularly Lyari, without being properly screening at the borders."
The journalist had tagged PPP Chairperson Bilawal Bhutto-Zardari, Sindh Education Minister Saeed Ghani, and SAPM on Health Dr Zafar Mirza in their tweet.
Shortly afterwards, Yousuf cautioned people against circulating 'reports' without verification.

"Before tweeting anything about people getting Corona virus please please please verify it from an authentic source because otherwise you're doing nothing but creating panic when people are already scared.
"Act a little responsibly. Thanks," she wrote.