Prime Minister Imran Khan on Sunday praised the Indian government for following an "independent" foreign policy, saying that New Delhi's policy was for the betterment of its people.
"Today, I praise India for always maintaining an independent foreign policy," PM Imran Khan had said while addressing a public rally in the Dargai tehsil of the Malakand district, Khyber Pakhtunkhwa.
The premier had said that India is a member of the quad alliance, with the United States as one of its members, but it still calls itself "neutral". He had further stated that India is still importing oil from Russia, regardless of the sanctions the country is facing due to the Ukrainian war.
"This is because India's foreign policy is for its people," he had said.
As soon as the PM's address ended Indian media and journalists were quick to take notice of it and gave wide coverage to the Pakistani premier.
The Hindustan Times ran the story with the headline that "India's foreign policy better than Pakistan, says Imran Khan".
NDTV noted in its headline that the Pakistani premier had praised Indian foreign policy amid the turmoil.
Other media outlets highlighted the statement in the context of the Ukraine-Russia conflict. You can check them here, here and here.

Apart from the mainstream media, the statement was also widely celebrated on social media.
Here's a look at some of them: 
Indian anchor Akhilesh Anand said that PM Imran Khan was praising his Indian counterpart with the statement.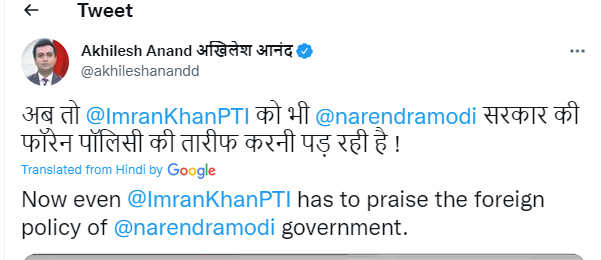 BJP leader Rajiv Babar said that PM Imran Khan has understood India's foreign policy but the Indian Opposition fails to understand it.
Indian journalist Atul Tiwari claimed that PM Imran Khan's statement showed that India was being "realised as a global power".
A retired Indian airforce pilot called the statement "salute to Hindustan".  
Former cricketer Virendar Sehwag also tweeted on the issue.
"Awestruck" PM Imran, tweeted Gaurav C Sawant.