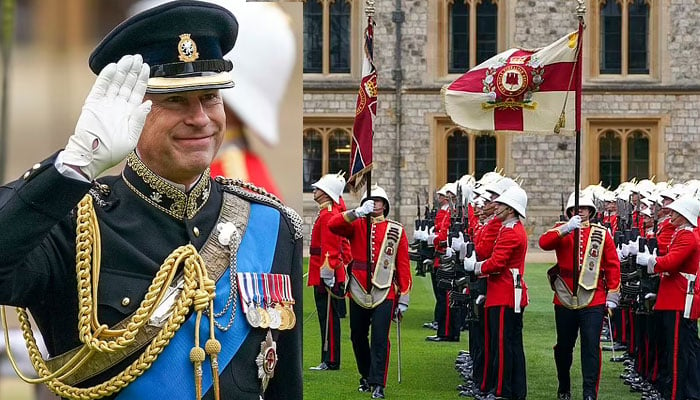 The Queen's youngest son Prince Edward presented new colours to the Royal Gibraltar Regiment at Windsor Castle on behalf of the Queen on Thursday.
The 58-year-old royal was all smiles as he donned his military uniform to lead the ceremony day-after his father Prince Philip's memorial service.
The ceremony followed Tuesday's memorial service for Prince Philip, which Edward attended with wife Sophie and their children Louise and James.
Royal family proudly shared amazing moments on its official Instagram Thursday, captioning: "Today at Windsor Castle, The Earl of Wessex presented the Royal Gibraltar Regiment with new Regimental Colours."
"You should be justly proud of your successes and achievements, recognised in their own right by this presentation of your Regimental Colours today," it added.

"Originally serving as a rallying point for Troops, Colours - or flags - are an important and symbolic part of a Regiment's identity.

"The new Colours will be paraded in Gibraltar for the first time at The Queen's Birthday Parade in June, which will be attended by The Earl and Countess of Wessex," the statement said.
The Royal Gibraltar Regiment are in the UK for the first time in almost 10 years, with personnel guarding the Tower of London, St James Palace, Windsor Castle and Buckingham Palace

Prince Edward, who wore a row of medals, including the Royal Victorian Order Star and Order of the Garter Star told the troops: 'This is your Sovereign's personal recognition of your professionalism, skill, courage and unique contribution to our nation's defence.'