Korean dramas are bagging international accolades with their quality content that is now being streamed across various streaming services, most predominantly Netflix. 
Here is the list of some of the high-rated Korean dramas of 2022 so far on Netflix that have amassed global fame and fervid fans.
1. Business Proposal:
This K-drama, initially aired on February 28, is a remake of the webtoon of a similar name. Directed by Park Seon-ho and written by Han Seol-hee and Hong Bo-hee, it stars Ahn Hyo-Seop, Kim Se-jeong, Kim Min-kyu, and Seol In-ah.
Business proposal has received global applause and is Netflix's third-ranking series of all origins, behind only Bridgerton, according to variety.
The story follows Shin Ha-ri, a corporate employee who goes on a blind date in place of her friend. It turns out that the date is her own boss Kang Tae-moo who then makes a proposal to her.
It has 8.1/10 IMDb ratings.
Check it out below:
2. All of Us Are Dead:
All of Us Are Dead is a coming-of-age, zombie apocalypse-style horror streaming series, featuring Park Ji-hu, Yoon Chan-young, and Cho Yi-hyu and created by Lee JQ, Chun Sung-il, Kim Nam-su.
After a failed science experiment, a high school gets infected with a zombie virus outbreak. The students must fight for their survival and find a way out or risk being turned into the rabid infected. On June 6, 2022, the series was renewed for a second season.
It has 7.5/10 IMDb ratings.
Check it out below:
3. Ghost Doctor:
Director Boo Seong-cheol blended medical and fantasy genres in this drama with a new concept of 'coma ghost'. Starring Rain, Kim Bum, Uee and Son Na-eun, this K-drama aired on January 3 and ended on February 22, 2022.
The plot involves Cha Young-min (Rain), who is an excellent cardiothoracic surgeon with an arrogant personality. After a car crash, Cha Young-min wanders into his hospital as a 'coma ghost' and possesses Go Seung-tak (Kim Bum), a first-year thoracic surgery resident, who is absolutely opposite in nature to the spirit possessing him. After being possessed by such a genius surgeon Go easily takes on difficult surgeries and unearths controversies. 
It has 7.9/10 IMDb ratings.
Check it out below:
4. Juvenile Justice:
This drama is a character-driven legal thriller, starring Kim Hye-soo, Kim Moo-yeol, Lee Sung-min and directed by Hong Jong-chan. The first episode aired on February 25.
The series tells the story of a tough female judge who has a huge dislike for minor offenders. When she gets appointed as the head of the juvenile court, she has to fight off her prejudices and give a verdict according to the principles of justice.
It has 8/10 IMDb ratings.
Check it out below:
5. Thirty-Nine: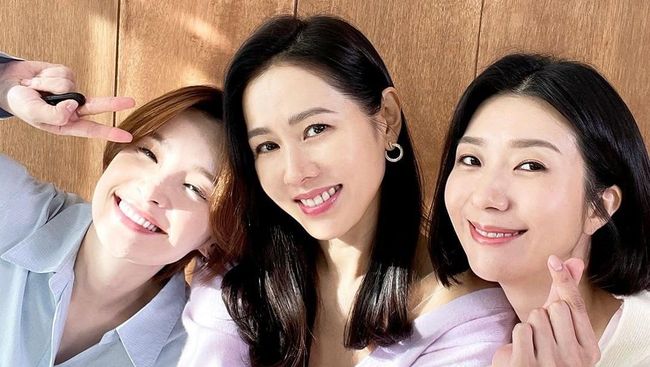 Directed by Kim Sang-ho and starring Son Ye-jin, Jeon Mi-do and Kim Ji-hyun, this drama featured in the Global Top 10 weekly list of the most-watched international Netflix TV shows for 4 weeks as of April 3. The first episode aired on February 16, 2022

The story revolves around the life of three female best friends who stick by each other through thick and thin. Hop on their journey as they navigate friendship, romance and love while at the brink of 40 years old.

It has 7.7/10 IMDb ratings.
Check it out below:
6. Twenty Five Twenty One:
Directed by Jung Ji-hyun and starring Kim Tae-ri, Nam Joo-hyuk, Bona, Choi Hyun-wook and Lee Joo-myung, this drama became a commercial hit and became one of the highest-rated dramas in Korean cable television history. It premiered on February 12, 2022.
The plot is set in Korea during a financial crisis where a teenage fencer crosses paths with a hardworking young man who seeks to rebuild his life.
It has 8.7/10 IMDb ratings.
Check it out below:
7. Tomorrow:
This k-drama is a delight for fantasy lovers and is based on a webtoon published in 2017. Directed by Kim Tae-yoon and Sung Chi-wook, starring Kim Hee-sun, Rowoon, Lee Soo-hyuk and Yoon Ji-on. The series is about grim reapers and angels of death who collect souls and prevent people from ending their lives. The first episode aired on April 1.
Made half-human and half-spirit by an accident, Choi Jun-Woong (Ro Woon) looks for a job and gets hired by a group of grim reapers to carry out special missions.
Tomorrow tackles sensitive topics and brushes upon the harsh realities of life.
It has 7.8/10 IMDb ratings.
Check it out below:
8. Forecasting Love and Weather:
This is a love story of two co-workers and their everyday life in the office. The drama series featured in the Global Top 10 weekly list of the most-watched international Netflix TV shows for 6 weeks in a row from February 21 to April 3 and its first episode premiered on February 12, 2022. Directed by Cha Young-hoon and stars Park Min-young, Song Kang, Yoon Park and Yura.

The drama depicts the growing love relationship between two colleagues Jin Ha-Kyung and Lee Shi-Woo who work at the Korea Meteorological Administration.
It has 7.6/10 IMDb ratings.
Check it out below:
9. Pachinko:
Based on the 2017 New York Times bestseller by Min Jin Lee, this drama premiered on March 25. The series is created by Soo Hugh, directed by Kogonada and Justin Chon and stars Youn Yuh-jung, Lee Min-ho, Kim Min-ha and Jin Ha. It received critical acclaim, particularly for the performances of the cast (most notably that of Youn Yuh-jung), cinematography, and writing.
Set against the backdrop of the Japanese invasion of Korea, the saga chronicles the lives of a Korean immigrant family across four generations who, harbouring hope and dreams, are in a quest to survive and thrive.
It has 8.4/10 IMDb ratings.
Check it out below:
10. Alchemy of Souls:
This drama is another treat for fantasy lovers which blends elements of fantasy with romance, starring Lee Jae-wook, Jung So-min, and Hwang Min-hyun. Written by the Hong sisters, who took inspiration from the Jaeson period of South Korea. The first episode aired on June 18, 2022.

The story is set in a fictional country of Daeho where a young man from a noble family seeks help to change his destiny from a powerful sorceress in a blind woman's body. The story involves young mages dealing with the affairs of the realms of heaven and earth.
It has 9/10 IMDb ratings.
Check it out below: