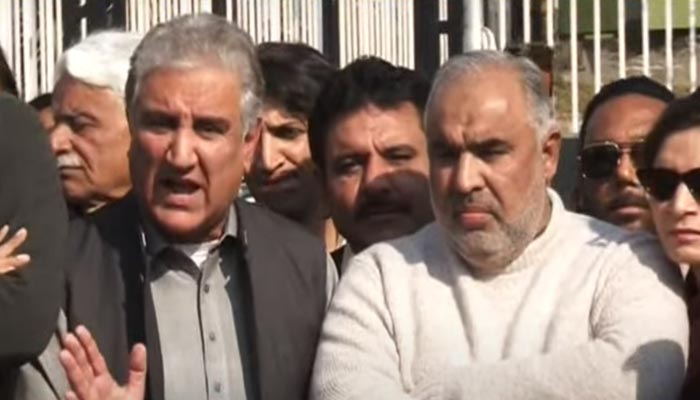 Asad Qaiser condemns acceptance of resignations.
"NA speaker should accept remaining resignations," says Shah Mahmood Qureshi. 
Fawad Chaudhry blames govt for political, economic crisis.
---
Soon after the National Assembly Speaker Raja Pervaiz Ashraf's decision to accept the resignations of 35 more Pakistan Tehreek-e-Insaf (PTI) MNAs, party leaders termed the move as "illegal" and "immoral". 
Earlier on Friday, the NA speaker accepted the resignations of 35 more PTI lawmakers in a bid to scuttle Imran Khan's bid to "test" Prime Minster Shehbaz Sharif through a trust vote and claim a role in the appointment of caretaker prime minister — according to the Constitution, the Leader of the Opposition is consulted for the selection of interim PM. 
A total of 70 resignations were accepted this week after PTI Chairman Imran Khan announced to return to the assembly.
Speaking outside the Parliament House, the PTI leaders reiterated the need for early elections in the country. 
Former National Assembly Speaker Asad Qaiser, flanked by other PTI senior leaders, condemned the acceptance of the resignations. 
He said that Ashraf called them to his office and told them that the resignations will not be accepted unless he talks to the MNAs separately.

On the occasion, PTI Senior Vice President Fawad Chaudhry berated the speaker's decision and asked about the PTI MNAs who he [Raja Parveiz Ashraf] had claimed were in touch with him regarding their resignations.

Chaudhry said that about 81 resignations have been accepted, demanding a date for the upcoming general elections.
Expressing his displeasure over the decision, the PTI leader blamed the current government for the political and economic crisis. "We are heading towards a Sri Lanka-like situation," he said.
Moreover, PTI leader Asad Umar said that the speaker's move proved that he is not a custodian of the house, adding that the MNAs went to the assembly only to find that the whole staff is unavailable including the speaker, deputy speaker, secretary and deputy secretary. 
PTI Vice Chairman Shah Mahmood Qureshi said that the speaker first said that he cannot accept the resignations collectively.
"We decided to come to the meeting and he [the speaker] postponed it and when we came to the assembly, he accepted the resignations of 35 more MNAs," said Qureshi, demanding that the rest of the resignations should also be accepted.
The party's vice chairman said that the PTI wants snap polls so that the people can decide for themselves.