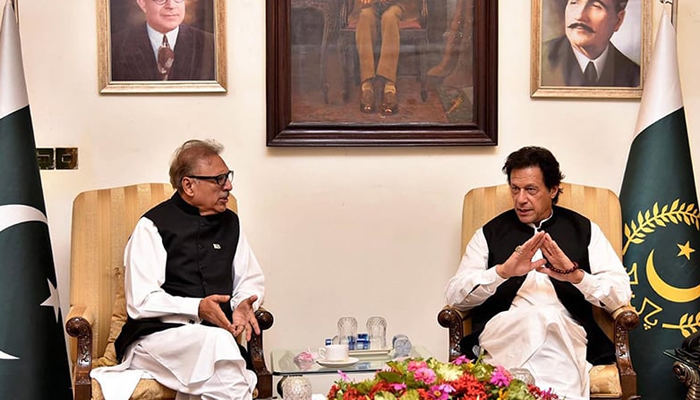 President Alvi deplores Fawad's arrest.
Alvi warns of "resistance" if PTI chief arrested.
He says Imran wanted to negotiate with government.
---
LAHORE: President Dr Arif Alvi believes that the government will be "playing with fire" if it resorts to arresting Pakistan Tehreek-e-Insaf (PTI) Chairman Imran Khan — as speculations are rife after PTI Senior Vice-President Fawad Chaudhry's arrest.
In a conversation with senior journalists on Thursday, the president, in response to a question about Khan's arrest by the incumbent government, said: "It will be tantamount to starting a fire [fuelling anarchy in the country]."
The president said that arresting the former primer minister or any senior politician would lead to "resistance", hinting at instability if the government tries to detain its opponents.
Fawad, a former federal minister, was arrested from his Lahore residence in the wee hours of Wednesday after he publicly "threatened" the members of the Election Commission of Pakistan (ECP) and their families in a media talk a day earlier.
He was then taken to Islamabad, where the capital's police were granted a two-day remand of the PTI leader in the sedition case. His arrest drew strong criticism within the federal government's ranks — which, although, has denied involvement.
Imran 'not against' table talk
The president also deplored the manner in which Fawad was presented in the Islamabad court and asked the officials to "have some shame" as they covered his head with a white sheet and also handcuffed him.
"Institutions shouldn't need police to maintain their respect. If someone has an issue with me, then I will improve my performance instead of asking the police to take action," he said.
Despite persistent agitation from the PTI since Khan's ouster in April last year, the president reiterated that the former prime minister was "not against" table talks.
"If politicians do not want to sit and negotiate, then what can I do? Imran Khan is not against negotiations, however, there was no response from the government [when asked to sit on the table]," he said.
The president said that Khan was even ready to reconsider early polls as he wanted the government to begin negotiations. 
Elections in Punjab
As confusion surrounds the staging of elections in Pakistan's biggest province, President Alvi said he spoke to Punjab Governor Baligh Ur Rehman about issuing a date for the polls.
"The governor told me that had he signed on the summary to dissolve the elections, only then would he have issued a date for the elections," the president mentioned.
President Alvi said the governor told him that he would not be partaking in "unconstitutional" moves. He added that the PTI chief also fears the polls might be put off.
The Punjab Assembly was dissolved on January 14 after the governor refused to sign the dissolution summary forwarded to him by then-chief minister Parvez Elahi.