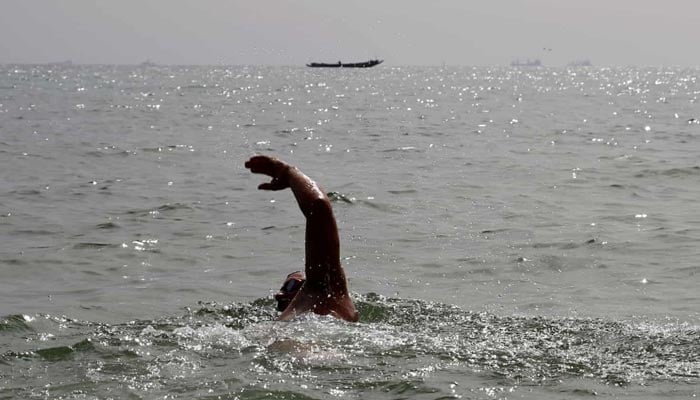 Boat was carrying 40 people who were sightseeing.
Team of divers called from Peshawar: DC.
Pakistan Army's rescue teams also reach site of incident.
---
KOHAT: A boat carrying over three dozen sightseers sank in Kohat's Tanda Dam, leaving 30 people, most of whom were children, dead after they drowned, Geo News reported on Sunday. 

Deputy Commissioner (DC) Kohat Furqan Ashraf confirmed the tragic incident and said that there were 40 children in the boat, along with sailors and teachers.
"The accident occurred due to overloading of the boat. The rescue operation was stopped Monday evening due to darkness and will be resumed tomorrow (Tuesday)," he added. 
The commissioner further said that the bodies of the deceased children were being handed over to the heirs after being taken to the hospital.
As per the rescue sources, most of the people who were killed were kids.
Earlier, a team of divers has been called from Peshawar and Pakistan Army's rescue teams reached the site of the incident to help provide relief assistance.
A case has been registered against the boatman and the relevant authorities of the irrigation department.
Prime Minister Shahbaz Sharif has expressed regret over the incident and directed to provide medical facilities to the children under treatment.
'Rescue underway'
Local police official Mir Rauf told AFP all of the drowned so far recovered were aged between seven and 14.
A total of 17 were rescued alive from the reservoir by Sunday afternoon.
"Everything was normal until suddenly the boat overturned," said 11-year-old survivor Muhammad Mustafa from his hospital bed in the nearby city of Kohat.
"I got stuck under the boat," he told AFP. "My shawl and sweater weighed me down, so I took them off."
"The water was extremely cold and my body went numb. I thought I was going to pass out when a man on an inflatable tube saved me."
One of the rescued was a teacher, who remained unconscious as the rescue operation continued for up to three pupils still missing.
The class of madrassa students "went out for a picnic and boating" at the scenic location, district police chief Adbul Rauf told AFP.
"According to the information so far, the boat was in a dilapidated condition and it was overloaded too," he said.
Twin tragedies
On the same day, a bus plunged off a bridge into a ravine in southwestern Balochistan province, leading to the death of forty-one people.
PM Shehbaz took to Twitter to offer condolences to those the grieving families. He wrote: "The loss of more than 40 precious lives as a result of the bus accident in Lasbela is surely no less than Qayamat Sughra. My sympathies and prayers go out to the affected families. The provincial government should immediately investigate this tragic accident to find out the reasons."  
Ramshackle highways, lax safety measures and reckless driving contribute to Pakistan's dire road safety record.
Passenger buses are frequently crammed to capacity and seatbelts are not commonly worn, meaning high death tolls from single-vehicle accidents are common.
In November, 20 people, including 11 children, were killed when a minibus crashed into a deep and water-logged ditch in southern Pakistan.
According to World Health Organisation estimates, more than 27,000 people were killed on Pakistan's roads in 2018.
Mass drownings are also common in Pakistan, when aged and overloaded vessels lose their stability and pitch passengers into the water.
In July last year, at least 18 women drowned after an overloaded boat carrying about 100 members of the same family capsized during a marriage procession between two villages.
---
— Additional input from AFP