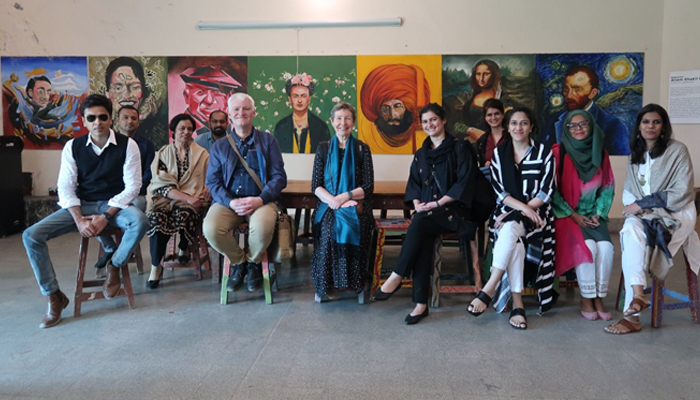 Three senior faculty members from the University of Oxford in London are currently visiting Pakistan for attending a two-day education conference, a statement said Wednesday.
The faculty — Dr Ann Childs, Associate Professor of Science Education, Dr Ian Thompson, Associate Professor of English Education and Dr Aliya Khalid, Lecturer of Comparative and International Education — will be attending the first International Teacher Education Conference organised by Durbeen.
The conference is being organised at the Government Elementary College of Education (GECE), Hussainabad. Presentations and panel discussions will centre around teacher education in Pakistan, covering various innovations in pedagogy and assessment, key challenges and potential solutions.
The conference is being attended by the faculty from the University of Oxford along with teacher educators from institutions around the country, including Aga Khan University-Institute of Educational Development (AKU-IED), Notre Dame Institute of Education, Lahore University of Management Sciences (LUMS), Lahore College for Women University, Forman Christian College, University of Karachi, and Sukkur IBA University.
Speakers from the corporate sector and media have also been invited to talk about the public perception of the teaching profession and ways to attract talented young students to choose to teach as their career.
Apart from that, the faculty will also visit government schools and teacher training colleges and develop an understanding of the local education and policy context and finalise the programme and curriculum that is being developed for the first Master of Science (Education) for Teacher Educators in Pakistan.
The M Ed Program
There are 29 teacher training colleges in Sindh alone. Durbeen has adopted one of these – the Government Elementary College of Education (GECE), Hussainabad in Karachi.
These colleges all offer the Bachelor of Education (B Ed) degree program. However, the key challenge that all these colleges face is the shortage of professionally qualified and experienced teacher educators.
Durbeen is addressing this issue by establishing a programme that offers an MS (Education) specifically for Teacher Educators. This is the first of its kind in Pakistan and is offered in very few universities around the world.
The objective is to train the teacher educators who can go on to become change agents in the teacher training colleges across Sindh and around Pakistan, leading to a downstream benefit in the quality of education offered at government schools around the country.
Perhaps the most unique aspect of this program is that it is being developed under a four-way partnership that includes the University of Oxford, the Government of Sindh (GoS), the Malala Fund and Durbeen.