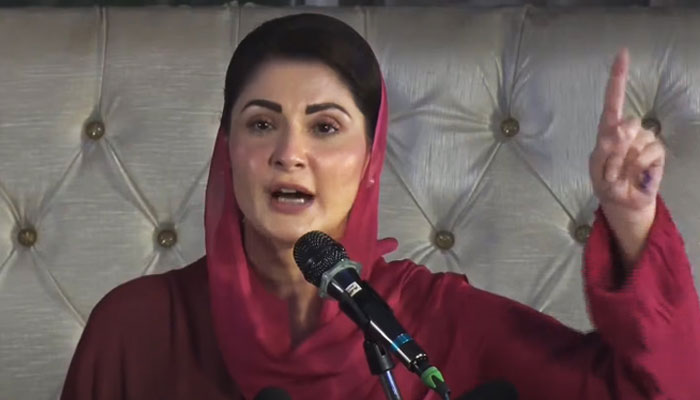 PML-N leader comes down hard on former PM over no uplift projects in KP.
"Your frontperson Farah Gogi has fled to Dubai", Maryam tells Khan.
Says only PML-N can steer country out of political, economic crises.
---
Accusing the former first lady of receiving bribes during the Pakistan Tehreek-e-Insaf's (PTI) government, Pakistan Muslim League-Nawaz (PML-N) Senior Vice-President and Chief Organiser Maryam Nawaz on Thursday suggested that detentions should start with Bushra Bibi, the wife of PTI Chairman Imran Khan.

The PML-N stalwart was referring to the PTI chief's Jail Bharo (court arrest) movement announced last week.

Addressing a party's workers' convention in Abbottabad, Maryam, while firing a fresh broadside at Khan, said: "Your frontperson Farah Gogi has fled to Dubai. Your wife received diamond rings and bribes. Hence, the arrests of PTI workers should start with her."
She added that "the PTI chief signed official files after taking bribes, then why should the workers be arrested?" 

"You [Khan] filled your pockets, hence, why should the people fill the jails?" she asked.
Khan made KP people 'fool'
Lashing out at the deposed prime minister, Maryam Nawaz said Imran Khan made the people of Khyber Pakhtunkhwa (KP) "fool" in the name of dams.
She insisted that the KP needed PML-N supremo Nawaz Sharif, who has been in self-imposed exile in London since 2019 owing to health reasons, but not funds as the province had plenty of resources.
According to the scion of the Sharif family's political dynasty, the PTI did not launch any new development projects in the province. She also held Khan responsible for the recent Peshawar blast, which claimed the lives of scores of people.
Taking a jab at Khan, Maryam said: "The person who claims of filling jails had been filling his pockets during the past 10 years. The amount meant for your development has been spent on Zaman Park [residence of Imran Khan in Lahore]."
Refereeing to PTI Vice-Chairman Shah Mahmood Qureshi's yesterday statement wherein he admitted that Nawaz had been removed unconstitutionally, she said that they "all will say that they did injustice to the PML-N supremo".
In an apparent reference to Imran Khan, she raised a question: "A mentally ill person was imposed on the nation. What was their fault?"
The PML-N leader went on to say that the PTI chief's "crimes" but not wounds — which he sustained during a failed assassination bid in Wazirabad on November 3, 2022 — stop him from appearing before the court. Khan and his followers can clearly see their fate written on the wall, she added.
'Only Nawaz Sharif can put country on path of progress'
Only Nawaz Sharif, she said, could put the country on the path of progress.
"Only the PML-N can steer the country out of the difficulties," Maryam said, adding, "I want the PML-N to clean sweep the next elections in the province."