ECP, President Alvi in war of words over election date.
CEC Raja finds fault in "use of words" by Alvi.
Ministers lambasts Alvi for becoming Imran Khan's "puppet".
---
ISLAMABAD: Two senior federal ministers Monday warned President Arif Alvi from turning the President's House into a den for blackmailing after the Election Commission of Pakistan (ECP) refused to participate in a consultative meeting he had summoned for today.
The Election Commission, in a letter to President Alvi today, stated that the issue of fixing the election date is subjudice and it can not be part of this process led by the president.
"In continuation of our earlier two letters, dated 18th and 19th February, 2023 and facts clearly stated therein. The Hon'ble Commission held a meeting today i.e. 20th February, 2023 at 09:30am on the subject matter and decided that the matter being subjudice, the Commission cannot participate in a meeting on the Subject matter with the Office of the President," Secretary ECP Omar Hamid Khan wrote.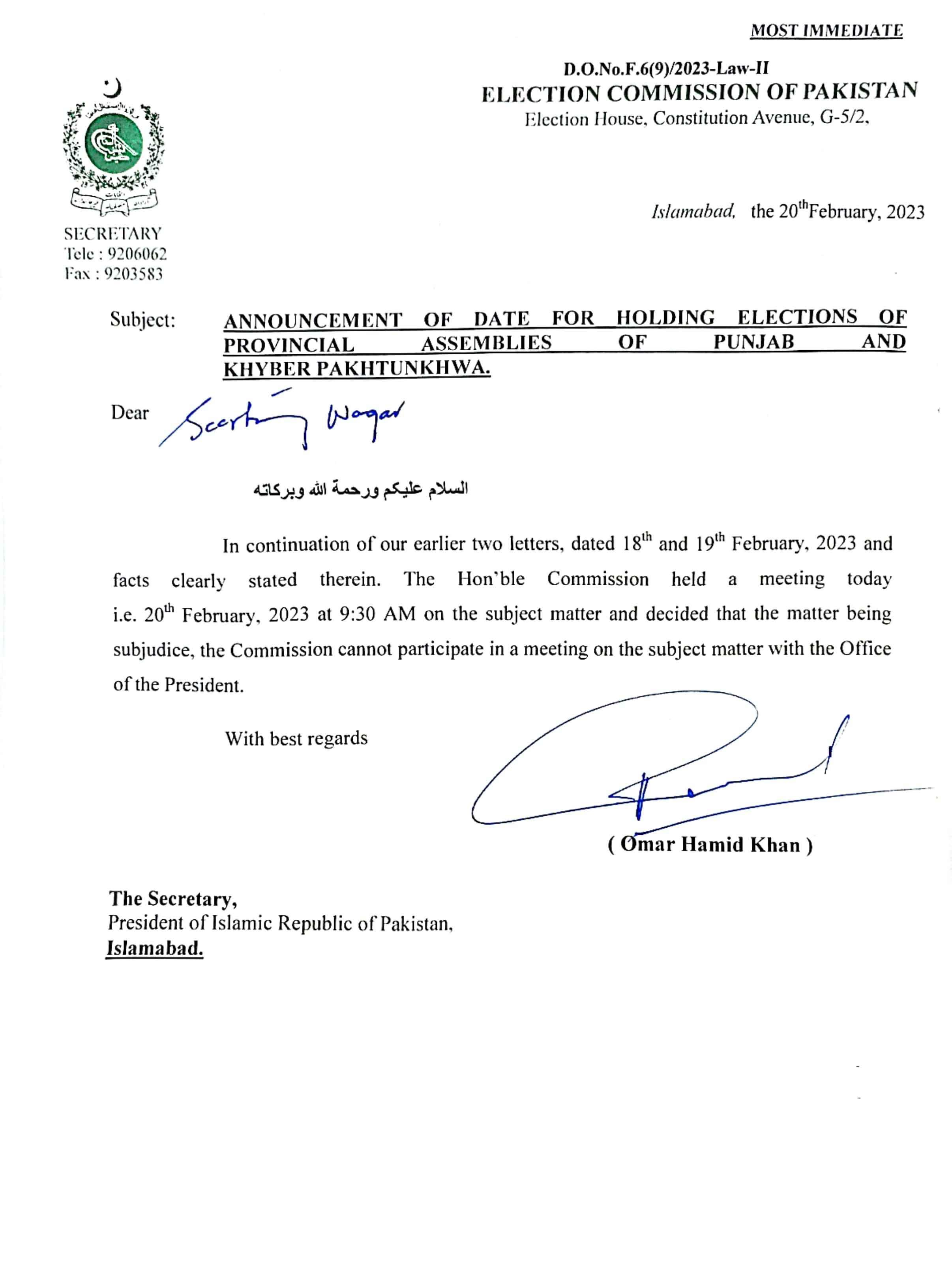 On Friday, President Alvi summoned Chief Election Commissioner Sikandar Sultan Raja for an "urgent meeting" on February 20 (Monday) to hold consultation on the date of the poll, lambasting him over the ECP's "poignant approach" regarding the general elections date.
However, after finding fault with the president's "choice of words" in a strongly-worded letter, the ECP on Sunday said that it may not be able to enter into a process of consultation with the office of the president due to the "matter being subjudice at various judicial fora" and several other reasons.
The secretary had stated that the commission will meet on Monday and take a final decision in this regard.
'Blackmailing den'
Meanwhile, two firebrand federal ministers Rana Sanaullah and Marriyum Aurangzeb have strongly defended the Election Commission, warning Arif Alvi from making President House a blackmailing den
In a statement issued on Monday, Information Minister Marriyum Aurangzeb said the Presidency has become "Awan-e-Sazish" [centre of conspiracy].
She said that the Election Commission is a constitutional institution and they will not allow it to become "Imran Khan's Tiger Force".
"An attempt is being made to take the election date illegally by pressurising the ECP. Article 6 will be applied to Alvi in case of violation of the Constitution."
She advised Alvi against becoming a puppet of Imran Khan.
Separately, Interior Minister Rana Sanaullah also lambasted Alvi for his alleged intervention in ECP's mandate.