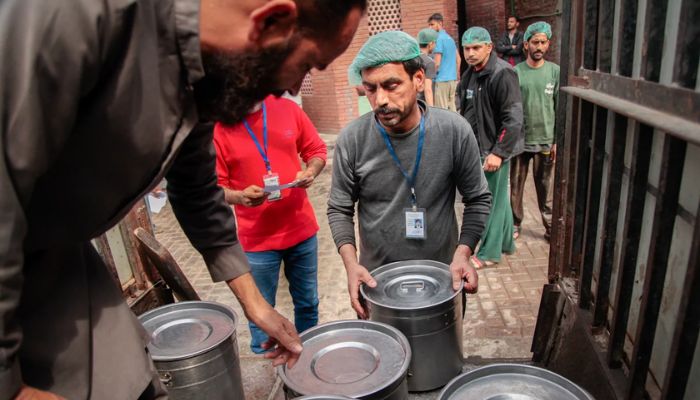 FAISALABAD: The outbreak of COVID-19, Russia's invasion of Ukraine and two climate catastrophes — a heatwave that dried up harvests and then summer floods that drowned them — have ravaged Pakistan and increased the cost of food and fuel. 
By the end of March, the World Food Programme (WFP) predicts that 5.1 million people, an increase of 1.1 million from the previous quarter, will likely be one step away from famine-level starvation. Chris Kaye, the WFP's country director for Pakistan, describes the figure as "frightening".
Also, the situation has challenged a cherished Pakistani practice of helping the hungry.
In one of the halls in the Bari Imam shrine, a cook serves up bowls of greasy rice. On benches where women and girls have gathered, a waitress slaps them down, a report by NPR describes. Women queue to receive free food. 
Cooks are paid by men and women who visit shrines in search of the patron saint's favours.

In Pakistan, where many people find it difficult to afford meals due to economic challenges, steaming cauldrons of free food are a common sight. 
Huge cauldrons of food are being prepared by cooks at outdoor kiosks in the feeding halls of the Bari Imam shrine. The cooks must pay for the food out of their own pockets, and they rely on people's contributions to pay their rent and pay their salaries.
Yet, chefs told NPR that because people are struggling so much, cooks are getting fewer gifts. Everything costs more due to inflation, so less food is produced.

A cook told NPR that last year he was responsible for 20 cauldrons a day, each of which contained roughly 10 kilos of stewed beef and poultry. He has now decreased the number of cauldrons and their food contents as a result of fewer donations. Seldom are requests made to make poor people's meals with meat. Many don't even want to order chickpeas with their rice this year, he told NPR reporter Diaa Hadid.
Crime reports are increasing as hunger tendrils expand. It has even reached the textile mills on the outskirts of Faisalabad, a city approximately four hours south of the capital, where the impoverished have traditionally gone to work in rich areas. 
Saylani runs a free kitchen where goat curry is provided. This cafeteria was recently established to cater to the needs of the employees of the nearby mills. The organisation operates 40 cafeterias in Faisalabad alone, which is nearly twice as many as they did two years ago.
Sheba, a 13-year-old, claims that her father, a security guard, is unable to purchase lentils. "We only have tea and bread at home right now," she told the journalist.
In an open-backed jeep, employees of the Pakistani charity organisation Saylani load freshly baked naan. By Pakistani standards, it is a rich location, but the charity claims that due to the high cost of living, many of the employees are going hungry.

Saylani is a nonprofit organisation which manages the canteen and runs an industrial kitchen. Thousands of pieces of flatbread are made by bakers. Goats that have just been sacrificed are skinned and chopped up by butchers, readied by men with stirring forks the size of shovels to cook in pots the size of bathtubs. Vats of cooked food are pushed into jeeps with open backs.
The drivers take off quickly to deliver lunch to 40 cafeterias, which serve about 20,000 people daily. Just two years ago, according to senior administrator Irfan Malik, the organisation maintained 26 cafeterias in the community.
Malik claims that the charity, which is supported by local donations, has already begun to make cuts to keep up with demand as inflation rises. 
That is partially because, in February, the government, in an effort to restart a stalled bailout, increased taxes and reduced subsidies on petrol and electricity. These actions have already led to local price increases, and this year's inflation is predicted to increase by more than 30% as a result.