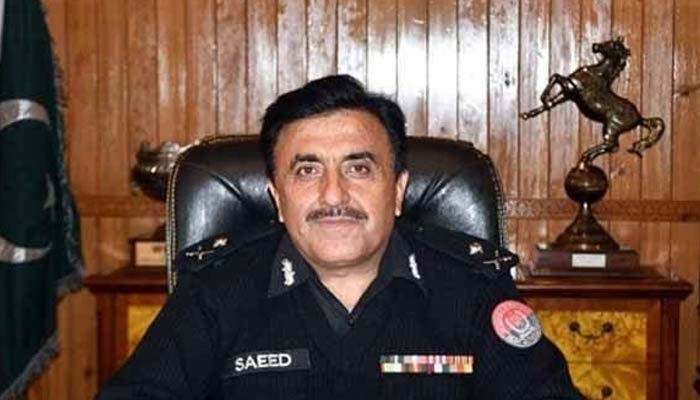 Newly-appointed IG ordered to recall police from Zaman Park, sources say.
Wazir removed over allegations that GB police protected PTI chief.
'Imran Khan is using women and children as a human shield.'
---
ISLAMABAD: The federal government Wednesday ordered the removal of Gilgit-Baltistan (GB) police from Pakistan Tehreek-e-Insaf (PTI) Chairman Imran Khan Zaman Park residence, sources said, after Inspector General of Police (IGP) Muhammad Saeed Wazir was sacked from the top post.
Wazir was removed as the IGP after allegations emerged that the GB police, instead of facilitating Khan's arrest, protected the PTI chief when law enforcers came to apprehend him in line with court orders — in the Toshakhana case.
A notification issued by the Establishment Division confirmed Wazir's removal and directed the now-former IG to report to the division.
Another notification from the division said that Dar Ali Khattak, a grade 20 police officer from Khyber Pakhtunkhwa (KP), had been appointed in Wazir's place.
Zaman Park confrontation
According to sources, the government issued the notice for the appointment of the new GB IG in order to immediately recall the police force deployed to Zaman Park.
They said that the federal government dismissed Wazir from the post for not recalling the force.
The sources also confirmed that the newly-appointed IG has been instructed to recall the police from Zaman Park.
On Tuesday, the Punjab Police personnel came face to face with the GB Police during an operation to arrest Imran Khan.
A heavy contingent of police surrounded the former prime minister's Zaman Park residence to arrest him in the Toshakana case.
The police party that had managed to reach the gate of Khan's Lahore residence — amid scuffles between the PTI workers and law enforcement agencies — were confronted by armed GB police deployed to provide security to the former prime minister who was removed from power after a no-confidence motion in the National Assembly in April last year.
The Punjab Police had to abandon the plan and leave the PTI chief's house after the GB police pointed guns at them.
'Coward and criminal'
In a press conference earlier today, Information Minister Marriyum Aurangzeb accused Imran Khan of spreading "chaos" in the country and using women and children as a "human shield" to prevent arrest.
She alleged that the GB force was being "used to injure unarmed personnel of the Punjab Police force."
She further called the PTI chief a "coward" and a "criminal", while waving the arrest warrant issued against him.