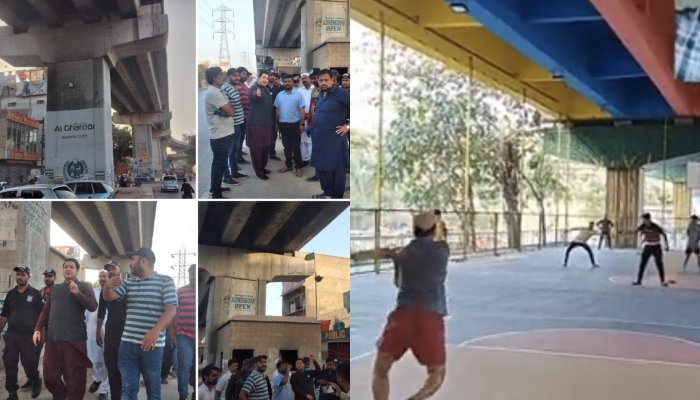 North Nazimabad Assistant Commissioner Hazim Bangwar is currently working on a unique project that innovatively utilises unoccupied government spaces for promoting recreational, sports, healthy, and fun activities for the people of his area.

Karachi has many flyovers and overhead bridges but the spaces under them are either lying vacant or become garbage dumping sites.
The idea of turning this area into a sports court was first executed in the metropolis by Karachi Administrator Murtaza Wahab under Cant Bridge. The space was creatively turned into a colourful basketball court.
This was initially inspired by a video shared by an Indian citizen who showed how the area under an overhead bridge was made a play area to provide the youth with a platform for healthy activities.
Now, Bangwar has promised a similar project to the residents of his North Nazimabad.
Taking to Twitter, the assistant commissioner shared some pictures of him visiting a site of the project to discuss the work plan.
"North Nazimabad you requested this? You're getting this!" he wrote on his Twitter handle.
Bangwar, a decorated PMS (Provincial Management Services) officer, who currently serves as an Assistant Commissioner North Nazimabad, Karachi, is a singer and songwriter, who rose to prominence due to his vibrant personality and eclectic tastes. 
He is passionate about providing funds for education, environmental and animal welfare and emergency response programmes in Pakistan.

Bangwar has also worked for and supported numerous local and international non-profit organisations, such as WWF, SOS, Oceana, Amnesty International, Dar Ul Sakoon, Project Aware, and PETA.
His aim with his foundation, HBF (Hazim Bangwar Foundation), is to ensure that it supports numerous diverse causes.