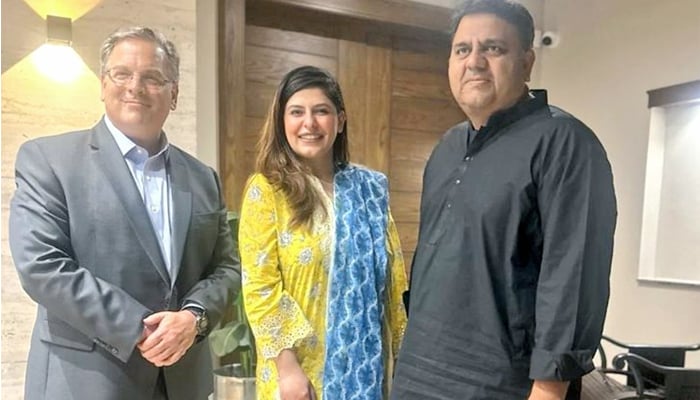 Ambassador Donald Blome calls on PTI leader at his residence.
Fawad's wife shares photo of the meeting on her Twitter handle.
PTI leader confirms development saying meeting took place last week.
---
US Ambassador to Pakistan Donald Blome called on Pakistan Tehreek-e-Insaf (PTI) Senior Vice-President Fawad Chaudhry at his residence, it emerged on Friday.
A photo of the meeting was shared by Fawad's wife, Hiba Chaudhry, on her Twitter handle.

"Great to meet Donald Blome the US Ambassador to Pakistan at our place," she wrote in the caption.
In a statement, Fawad confirmed the development, saying the meeting with the US envoy took place five or six days ago.
Earlier in February this year, Fawad confirmed that he held a meeting with Ambassador Donald Blome and other senior officials, focusing on the worsening human rights situation in Pakistan, The News had reported.
Taking to Twitter, the former information minister said: "Had a good meeting with US ambassador and senior officials. The worsening HR [human rights] situation in Pakistan was a particular focus of discussion."
The PTI leader said that he informed the US officials of the party's concerns regarding the "misuse of anti-terrorism and blasphemy laws by the Pakistan Democratic Movement (PDM)-led government against the political opponents".
The meeting came as the PTI is seeking to mend its ties with US after initially accusing the US of toppling the Imran khan-led government in April last year.
For a long time, former PM Imran Khan — who was shown the door through a no-confidence motion in April last year — had been claiming that the US backed the regime change because it wanted to have military bases in Pakistan and use the country once again to meet its foreign policy objectives in the region and beyond.
However, in November last year, Khan took a U-turn on his long-standing position of blaming the US for regime change conspiracy and the ouster of his government in April last year.