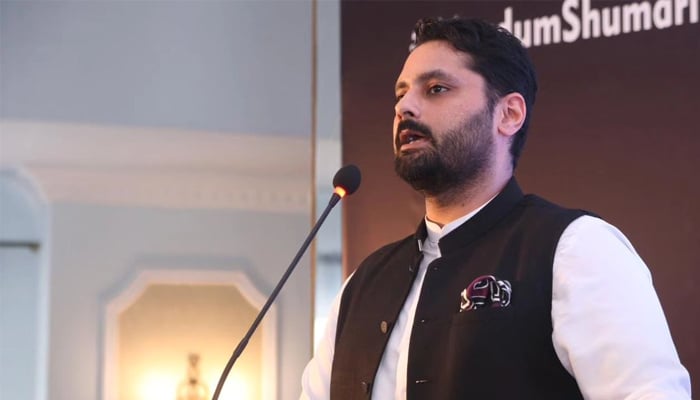 Around 15 armed people "picked up" Jibran Nasir, says wife.
Pasha implores people to raise voices for her husband.
HRCP demands his safe recovery, accountability of abductors.
---
Actress Mansha Pasha, the wife of renowned social activist and lawyer Jibran Nasir, said that armed individuals forcefully took her husband away in a shocking development from DHA Karachi.
In a video statement shared on social media, Pasha said that the incident occurred when they were on their way back home after having dinner late Thursday night.
A visibly shaken Pasha recounted: "Around half an hour ago, my husband Jibran Nasir, who is a renowned lawyer and has done much for the country, was abducted by some people."

She said their car was intercepted by approximately 15 armed men travelling in a white double-cabin vehicle.
"We were returning [home] from dinner, when a big white car intercepted us, almost causing us to crash. There were some 15 people, armed with pistols. They forcefully took away my husband."
Seeking support from the public, Pasha then earnestly implored people to raise their voices in solidarity with her husband and pray for his safe and swift return.
Condemnations
As the news of Nasir's abduction went viral, several people and human rights organisations condemned the incident.
Concerned by the abduction, they demanded that Nasir be returned home safely and quickly.
The Human Rights Commission of Pakistan (HRCP) took to Twitter stating: "HRCP is deeply concerned by reports that lawyer and activist [Jibran Nasir] has been abducted by unknown armed persons in Karachi. We demand that he be safely recovered immediately and his abductors held accountable under the law."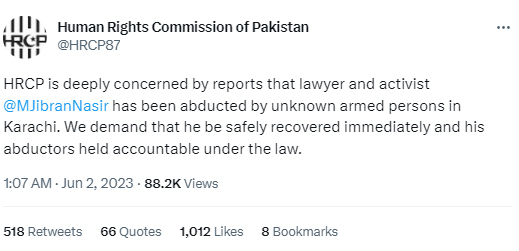 Prime Minister's Strategic Reforms Salman Sufi also tweeted his support for the human rights activist.
"Very disturbing to hear about [Jibran Nasir] abduction. Hope Sindh police will assist his family and locate him immediately. Jibran has always spoken against violent extremism and rioting. Hoping for his safe and immediate return," he wrote.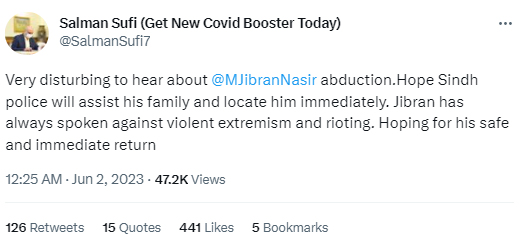 Moreover, Imaan Mazari, the daughter of the former human rights minister Shireen Mazari expressed his dismay at the news.
"No words... complete madness," she tweeted.