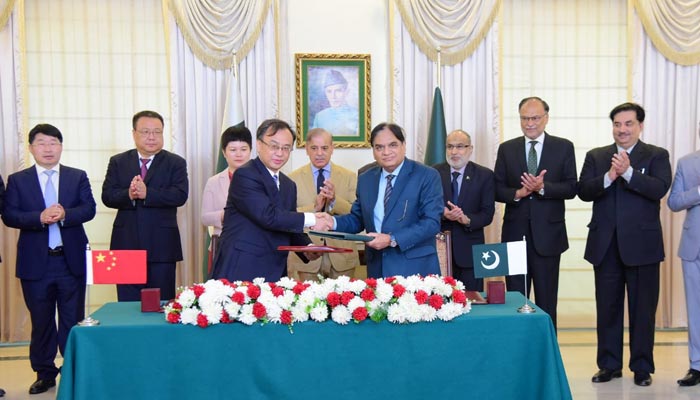 Chinese govt abstained from raising cost; gave Rs30bn discount: PM.
PM thanks Nawaz Sharif for making first nuclear agreement.
$3.48bn from China to create good impression on investors, says PM.
---
ISLAMABAD: Prime Minister Shehbaz Sharif on Tuesday witnessed the signing of the Memorandum of Understanding (MoU) between Pakistan and China for a 1200MW Chashma-5 (C-5) nuclear power project worth $3.48 billion.
China National Nuclear Corporation Overseas Ltd (CNOS) President and Pakistan Atomic Energy Commission (PAEC) Member Power Muhammad Saeed Ur Rehman signed the MoU.
On the occasion, PM Shehbaz said the nuclear power project was a significant step towards economic cooperation between the two countries.
The prime minister said the decision to start this project had been taken, and the main conditions were agreed upon during his previous term as PM; however, the successive government put this project in cold storage.
He said due to the higher global inflation, the project would have cost much more than that determined in 2017-18, but the Chinese government not only abstained from raising the cost but also gave a discount of around Rs30 billion.
Vowing to kick start the project without delay, the prime minister said under the difficult economic situation, investment from China in this project to the tune of $3.48 billion sent a clear message that Pakistan was a place where Chinese companies and investors continued to show their trust and faith.
"This reflects the famous quote that our friendship is higher than the Himalayas, deeper than the deepest ocean, sweeter than sugar and honey, and stronger than iron and steel. He said President Xi Jinping had called this friendship "iron brothers".
Furthermore, he added that he had recently inaugurated a K-3 nuclear project in Karachi.
PM Shehbaz said owing to the economic challenges, Pakistan was engaged with the International Monetary Fund (IMF) and was trying to finalise the 9th review of the bailout package.
"Pakistan has met all conditions required by the IMF that has been done three months ago, but there has been an inordinate delay", he said, adding that China once again had come to Pakistan's rescue.
Other than China, he said Pakistan also had great friends such as Saudi Arabia, UAE and Qatar that supported the country.
However, he said at this critical juncture, Chinese support was outstanding.
"We are deeply obliged to President Xi, the Chinese leadership, sincerely thanks to Finance Minister Ishaq Dar and his team for working hard to strike the agreement with the Chinese counterpart."
He also thanked Planning Minister Ahsan Iqbal and Power Minister Khurram Dastgir, who worked diligently.
He especially thanked the new military leadership for taking an interest in this project.
"This is a beautiful combination that all political parties and military leadership are on one page," he added.
He also paid tribute to Nawaz Sharif for making an agreement with China for a nuclear power project for the first time in 1993.
PM Shehbaz said during the last few months, China also renewed commercial and sovereign loans, which reflected an unparallel friendship between the two countries.
Federal Minister for Finance Senator Ishaq Dar, Planning Minister Ahsan Iqbal, and Minister for Power Khurram Dastgir, Pang Chunxue chargée d'affaires China, and Shen Yanfeng, Vice President of China National Nuclear Corporation were also present on the occasion.