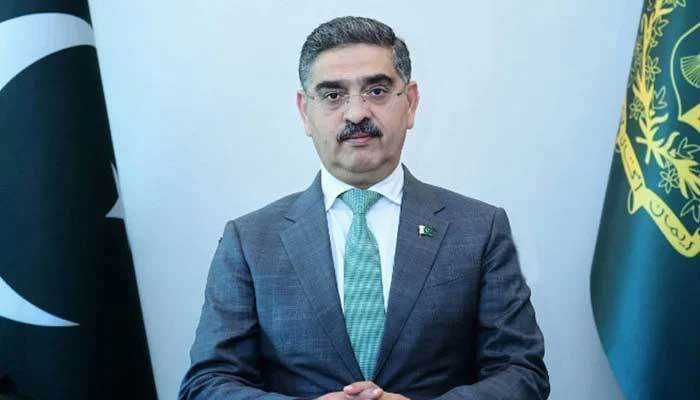 Petition seeks "stay order" against petroleum price hike.
PM Kakar, officials to appear on September 20: Court.
Recent increase in fuel prices "unjust", says petitioner.
---
A civil court in Gujranwala has summoned caretaker Prime Minister Anwaar-ul-Haq-Kakar over the recent hike in the prices of petroleum products.
Hearing a writ petition filed against the recent increase in petrol prices,  Judge Mohammad Awais summoned the interim premier, secretary petroleum and Gujrawanla commissioner.
The petition filed by Advocate Manzoor Qadir on September 16 seeking a stay order on the caretaker government's decision to increase fuel prices, mentions the caretaker prime minister and other officials as "concerned parties" and terms the recent petroleum price hike as "unjust".
Following the hearing on Tuesday (today), the court issued a summons to Premier Kakar and other aforementioned officials to appear before the court on September 20 tomorrow (Wednesday).
Government jacks up fuel prices to record level
Last week, the caretaker government had jacked up the petrol price by more than Rs26 and diesel price by over Rs17 per litre in its fortnightly review.
According to the Finance Ministry, the decision was taken due to the increase in oil prices in the international market.
The Finance Division said that the price of petrol will go up by Rs26.02 per litre, and the price of high-speed diesel (HSD) by Rs17.34 per litre. Now, the price for one litre of petrol will be Rs331.38, and HSD price will be Rs329.18.
This is the second time within a month that prices of petroleum products have been increased to take them to a historic high.
On September 1, the caretaker government had jacked up the petrol and diesel prices by over Rs14.
The Finance Division had said the hike was due to the "increasing trend of petroleum prices in the international market and exchange rate variations".
Back then the price of petrol went up by Rs14.91 per litre, and the price of high-speed diesel (HSD) by Rs18.44 per litre.
"The rupee appreciation will have a positive impact on the petroleum prices, but it will not be enough to offset the impact of rising global oil prices," an industry official told The News.