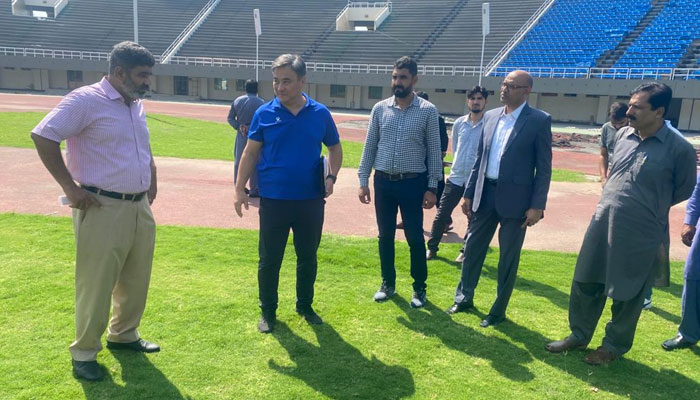 KARACHI: An official of the Asian Football Confederation (AFC) has questioned the standard of various facilities in Islamabad's Jinnah Stadium during his inspection visit to the venue ahead of Pakistan's FIFA World Cup Qualifier match against Cambodia.
The AFC Match Commissioner Kemel Tokabaev visited the Jinnah Stadium, Islamabad on Wednesday ahead of the FIFA World Cup 2026 Qualifier against Cambodia.
According to a PFF spokesman, member of the Pakistan Football Federation (PFF) Normalisation Committee Mohammad Shahid Niyaz accompanied Tokabaev along with other officials from the Pakistan Sports Board (PSB).
Tokabaev, who is from Kyrgyzstan, inspected the stadium thoroughly to decide if it meets FIFA's requirements to host an international match.
Sources have confirmed to Geo News that Tokabaev wasn't fully satisfied with pitch conditions, he also expressed reservations about the goalposts and facilities in the room.
"He highlighted that the playing surface was harder probably because it wasn't watered and he instructed to make it a bit soft," the source said.
"He also pointed out that goalposts were metallic instead of aluminium. There was a difference of a few centimetres than standard size when he measured the height through his electric gadget," the source highlighted.
The sources also revealed that some of the rooms do not even have a shower.
The PSB official present during the visit assured the match commissioner that everything would be ready before October 10.
The final decision on the stadium will be made by FIFA and AFC in the next few days.
Pakistan is scheduled to play its home game against Cambodia on October 17 after playing an away contest against them on October 12.
Jinnah Stadium last hosted a major event in 2014 which was the SAFF Women's Championship.
If the stadium is approved by the AFC to host the game, then it will be Pakistan's first international assignment at home since 2015 when Pakistan played a friendly against Afghanistan in Lahore.
This will also be Pakistan's first FIFA qualifier game at its own home ground since 2011. The game against Yemen in 2015 was moved to Bahrain after a bomb blast in Lahore while the 2019 game against Cambodia was moved to Qatar due to PFF's political chaos.
Pakistan had last played a FIFA World Cup qualifier at home in 2011 against Bangladesh.
The AFC official will visit Lahore's Punjab Stadium on Thursday.