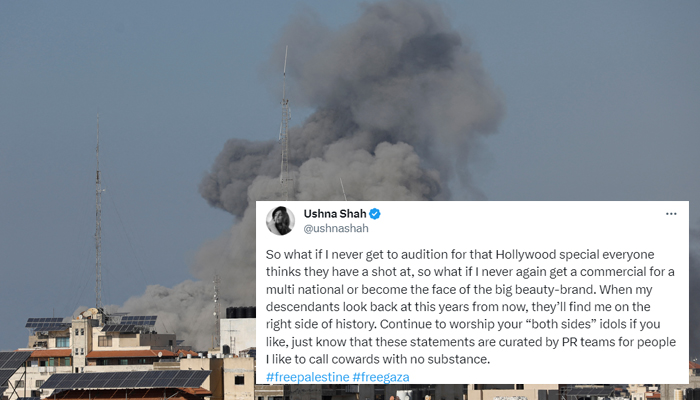 Pakistani actor Ushna Shah slammed celebrities playing "both sides" in the ongoing Middle East conflict as Israel continues to bombard Gaza with relentless airstrikes.
The majority of the celebrities in Hollywood have been siding with Israel in the ongoing war as they sympathise with the occupiers who have brutally treated Palestinians, with some calling Gaza an "open-air prison".
Palestinian resistance group Hamas launched an operation against Israel over the weekend, killing more than 1,200 people, with Israel — which has one of the strongest armies in the world — killing over 1,800 Gazans.
In response to celebrities sympathising with the oppressors and the victims, Shah said she did not want a role in Hollywood if it meant that she would need to keep mum when it comes to the Gaza war.
"So what if I never get to audition for that Hollywood special everyone thinks they have a shot at, so what if I never again get a commercial for a multi national or become the face of the big beauty-brand," she said in a post on X, formerly known as Twitter.
"When my descendants look back at this years from now, they'll find me on the right side of history," she said.
"Continue to worship your 'both sides' idols if you like, just know that these statements are curated by PR teams for people I like to call cowards with no substance," Shah added.
The war is nowhere near the end and Israel has given the entire Gaza population, around 1.1 million, to relocate to southern Gaza within 24 hours.
Hamas, however, has called for everyone to "remain steadfast in their homes and to stand firm in the face of this disgusting psychological war waged by the occupation," according to the Associated Press.